One of our favorite budget friendly travel system, the Evenflo Pivot, is getting better!  While at the JPMA show in Washington last week the brand debuted the new Pivot Expand – a modular travel system that will offer up to 22 configurations.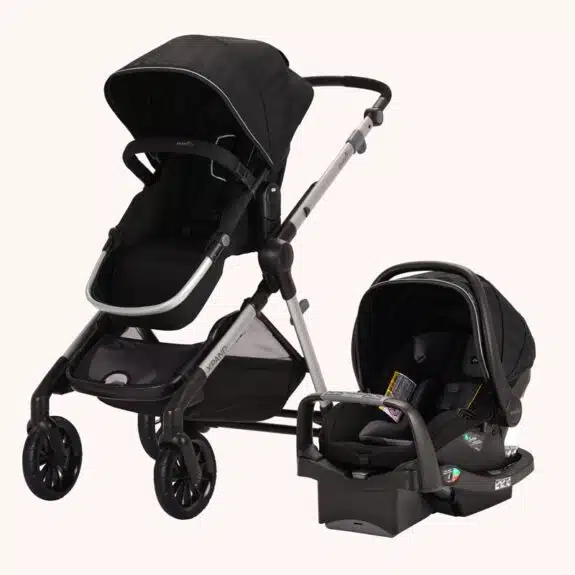 Perfect for growing families, the Evenflo Pivot Xpand transitions from a single to double stroller without extra parts or tools! The frame will accommodate up to 22 configurations, for infant and child seating at various heights in both parent-facing and forward-facing modes. The toddler seat reclines to infant mode, cradling baby at a comfortable angle.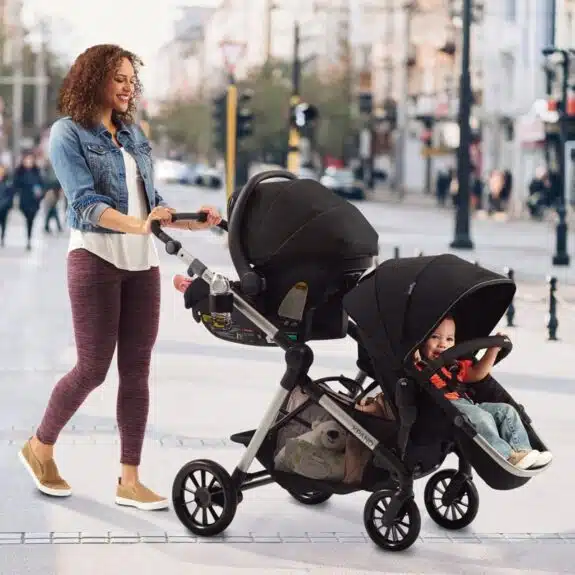 The Pivot Xpand will come with an easy-access basket that expands to over 2 feet in length! Parents will love the front and back access for convenience and the ability to grab your gear easily when you're out.
The Pivot Xpand also folds compactly with the toddler seat attached and self-stands for convenience.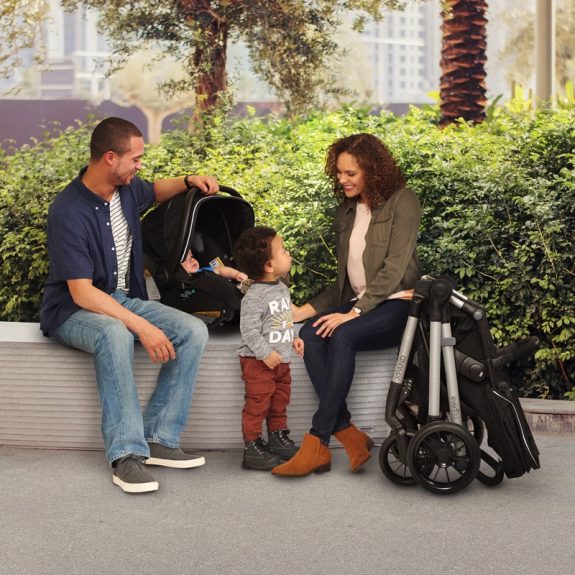 The toddler seat will come with  a 3-position reclining toddler seat and 5-position adjustable footrest.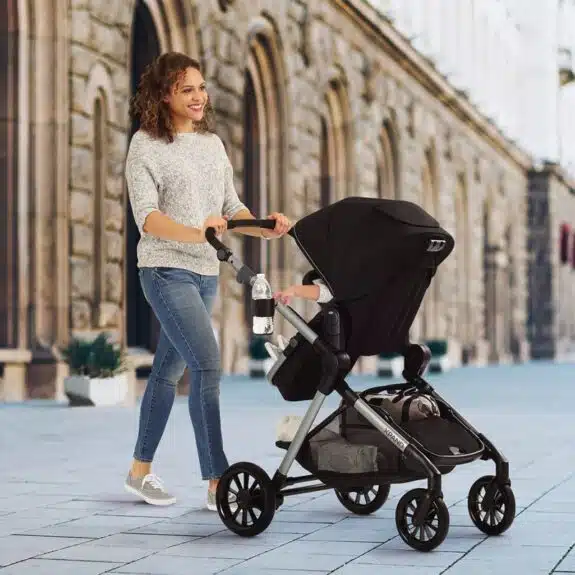 To accomodate parents of all heights there is a 4-position adjustable handle.  Plus, a removable bumper bar, and flex-hold cup holder that fits a variety of beverage sizes to help avoid spills.
The Pivot Xpand conveniently comes with the SafeMax™ Infant Car Seat which can be used in either single or double stroller travel system modes.
How much Does the Pivot Expand Weigh?
Stroller frame: 22 lbs
Toddler seat: 6.2 lbs
Stroller frame + toddler seat: 28.2 lbs
Stroller frame + infant car seat: 31.1 lbs
Stroller frame + stroller seat + infant car seat: TBA lbs
Infant car seat: 8 lbs
What is the weight capacity of the Pivot Expand?
Stroller usage: Birth to 50 lbs (maximum weight)
Car seat usage: 4-35 lbs
Car seat compatibility with optional stroller adapter: Chicco KeyFit, Graco SnugRide 30/35/40, Graco SnugLock 30/35 and Peg Perego Primo Viaggio
Additional Details:
Available: August 2018
Retail price: $399
Colors: Stallion, Roan, Perchero