Motherhood has been a steady climb for Teri Nobles who welcomed a son, Logan, 10 years ago and identical twins three years after that. Now she is about to tackle her biggest challenge yet after giving birth to triplets!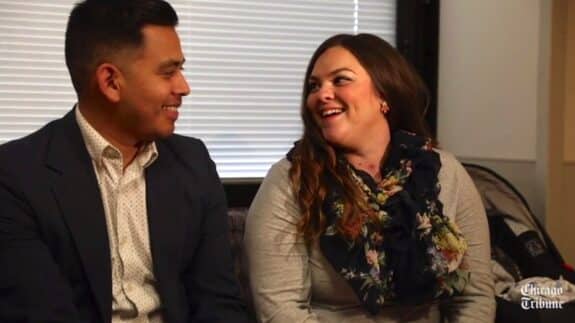 An ultrasound tech delivered the exciting news to Teri during her routine appointment when she found 3 sacs.
Her response? "I wanted to faint. I was nervous. I get really anxious. But I was excited."
Born on March 8th, the babies only arrived 3½ weeks prematurely. Two of the twins are identical and shared a placenta. One of the babies, however, stopped growing in the womb which prompted all three to be delivered by c-section.
Oddly, Santino who was born the smallest of the three, at just 3 pounds 7 ounces was the first one to go home. Andres, his identical twin was to be released on Good Friday and Vincent, their fraternal triplet, is set to go home early this week.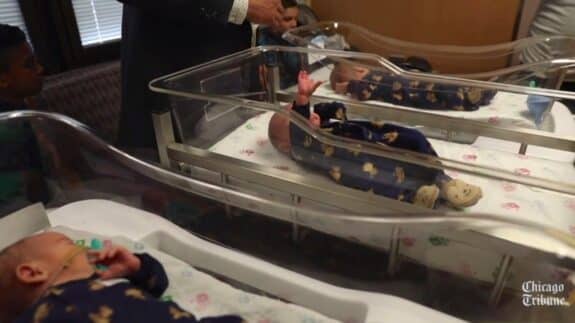 Dr. Vibha Thaker, Neonatologist at Advocate Good Samaritan Hospital joked about Teri's pregnancy saying,
"Two are identical twins and one is a fraternal baby so by itself that is very uncommon. To have triplets who are conceived spontaneously and then have one set of identical twins. Then we look at the mom's history. When she was pregnant the first time she had one baby. She became pregnant the second time and had twins. And those twins were identical. Now she conceived a third time and has triplets. So we were joking that maybe you can get pregnant again and maybe have 4 babies!"
The boys will have a large crew to welcome them home. In addition to Logan and Marcel, the babies' father, Mario Aguirre, has two children from a previous relationship, Brooklyn, and Mateo. Sadly, Marcel's identical twin brother, Victor, passed away at birth.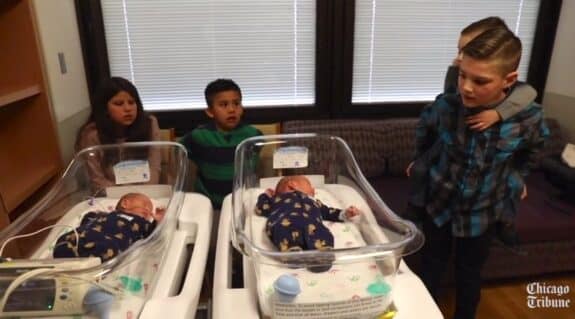 Marcel can identify each of his new brothers and keeps asking Mom when they will come home and if he can hold them.
His help will likely be welcome but there is also family close by who have volunteered to assist as well.
Teri has clothes from Marcel and a closet full of diapers for the newborns that she hopes that longer than a week.
Because the family doesn't know anyone who has had triplets they really will just have to make it up as she goes.
"There is no one I know with a similar situation," Mario told The Chicago Tribune said. "I have had a lot of 'good lucks' and 'holy cows.'"