With the exception of the classic pram, forward-facing has been the most common way for babies to ride in their strollers. Now, leading Australian child health is saying that this mode of transportation is 'cruel and selfish'.
Professor Cathrine Fowler, from the University of Technology Sydney, claims strollers that point children in the direction of travel are isolating, stressful, and terrifying.
"Imagine if you were strapped to someone's chest with your legs and arms flailing, heading with no control, in a busy shopping center. It would be terrifying. It is the same for our children," Professor Fowler, a mother of two, told the news.com.au website.
"Outward-facing baby carriers and prams give babies a bombardment of stimulus, creating a very stressful situation. In not considering our baby's perspective, we are inadvertently quite cruel to children."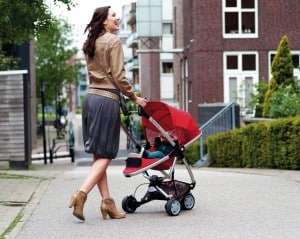 Three years ago a UK study also revealed that infants suffered more stress and sometimes even 'trauma' in modern buggies with seats facing away from their parents.
In contrast, children in traditional parent-facing buggies were more likely to laugh, listen to their mothers talking, and to sleep – indicating lower stress levels. The average British child spends up to two hours a day in a pushchair between birth and the age of three, the study said
Most parents use strollers with seats facing forward in line with the conventional wisdom that young children like to look at the world.
When using a face-to-face stroller it was found that parents were more than twice as likely to talk to their child.
That study also found that children who were facing in talked more to their parents.
In recent years, more companies are making their strollers more versatile, with a reversible seat being the most popular feature.
I personally found that my youngest son preferred to face out more when he reached his first birthday. By that point he was more independent and wanted to see the world.
Related Articles:
---