Whether you are a parent of a little girl or a little boy one of the most popular purchases you can make is a play kitchen.  When I take my son to daycare the very first thing he does every day is run over to the toy kitchen pick out some pots or pans and a few toy food items and brings them back to me – he just loves it!  They are a great way to encourage imaginative play while also being hours of fun.  If you're looking for a great kitchen look no further than Little Tikes Grillin' Grand Kitchen!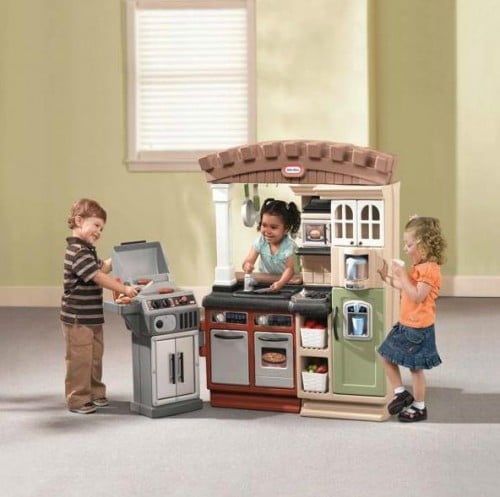 The Grillin' Grand Kitchen has a number of really great features like a pretend microwave, oven, dishwasher and coffee maker, refrigerator and BBQ.
When I first told my husband that we needed to get a toy kitchen for our son he thought I was crazy.   In his mind toy kitchens were made for girls rather than boys.   The selling point, however, was the BBQ!  My husband is in charge of the grill in our house and because of the added BBQ feature he couldn't wait to see our son flipping burgers and hotdogs on his own little grill.
Out of the box the Kitchen is pretty easy to put together – to be honest it was much easier than I had expected.  Looking at all the parts and the instructions I braced myself for a long, painful assembly.  Surprising it wasn't that hard to put together.  I did the assembly by myself, and while I think it would be quicker if you had another set of hands to help you along, it certainly can be a one man job if you don't have them.  The instructions suggest having an electric drill on hand and I'd recommend that you do that as well – some of the screws are quite long and could take you a while (and put your arms to the test) if you were to screw them all in by hand.  Overall the structure assembly is pretty simple and took me a little over an hour to complete.  One thing to note – the decals are not on the kitchen out of the box, and you'll need to stick them on yourself – for the average person this should be an easy task, however for me it was a little bit of a challenge because I'm a bit of a perfectionist and tried very hard to ensure that each one was put perfectly in place
The first time my son saw the kitchen he was sooooo excited!  He ran right over to it and started exploring all the various pieces.  To this day we spend much of our time playing in the kitchen – he loves that the stove and grill make fun realistic noises and I love that he's learning while he plays.
Another neat feature on the kitchen is that the refrigerator features an ice dispenser.  I personally love this and also love the little ice cubes that come with the set (although I wish they were single cubes rather than double) so that they'd fall from the dispenser more easily.
The set comes with 31 accessories – from fry pans, dishes and utensils to corn on the cob, a burger and hot dog with buns.  My son is still pretty young and the accessories include seem to be enough to keep him occupied, however I'd also recommend that you pick of a few additional food items that they can play with – perhaps the Backyard Barbeque Backyard Picnic or the Backyard Barbeque Summer Fruit and Veggies.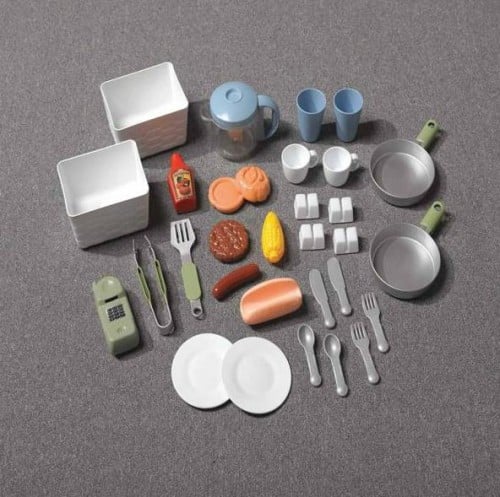 One of the things that parents worry about with toy kitchens is storage for all of the accessories.  Thankfully the Grillin' Grand features a ton of storage space from the cupboards and under the BBQ, to the fridge, stove and dishwasher – plus the set comes with two little baskets for storage that fit perfectly into the storage cubes under the stove.
This kitchen also has a multi-level counter top that has a pass through to the other side of the kitchen allowing children to really pretend that they are serving a meal to each other.  The kitchen it's self is large enough for multiple children to play at the same time – one can be cooking on the stove or in the microwave and another could be using the BBQ.
The Grillin' Grand Kitchen is excellent value; at only $159.99 it is very comparable to much more expensive kitchens on the market.  It's been a huge hit in my house and I'm sure it will be in yours.
Likes
Excellent quality and durability
Very attractive
Features a wide variety of activities
Easy to assemble
Wish List
Pre-assembled decals
Smaller ice cubes to allow for easier flow through ice maker
Sound effects on the Microwave
Oven & Dishwasher rack
Thank you Little Tikes for sending us the Grillin' Grand Kitchen!
Related Articles:
---
[ad]