A newborn baby, with his umbilical cord attached, was found lying in a manger inside a Queens church on Monday.
Police told the NY Post that the infant was abandoned at Holy Child Jesus Church in Richmond Hill.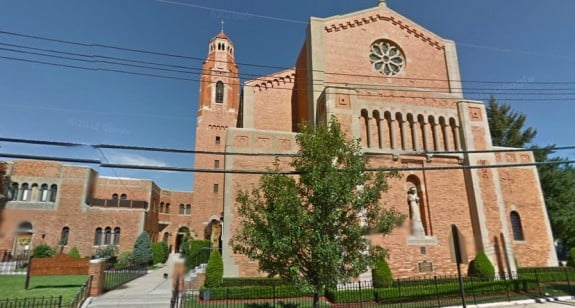 "The baby was found in creche, a sort of manger scene where we would put the baby Jesus during Christmas time," Father Christopher Heanue told The Post on Tuesday.
"The church is considered a safe haven for drop off.  The baby was brand new. He still had the umbilical cord attached. It's a beautiful baby boy."
The silver lining?  The manger was inside the church, which meant that even though the baby was left alone, he wasn't exposed to the elements and was discovered quickly.
The church's custodian had been setting up the nativity scene before he went for lunch. We he returned at 1pm he found the baby crying in the manger.
Surveillance video inside the church showed a woman walk inside the church with a baby in her arms and then shows her leaving alone.
Father Heanue said that,
"Families within the parish who have inquired as to the adopting the baby already," he explained. "They feel that he was left in the parish and should stay in the parish."
The newborn was taken to Jamaica Hospital, where he weighed in at a healthy 5 pounds, 6 ounces.
New York State's Abandoned Infant Protection Act allows a parent to abandon a newborn baby up to 30 days of age anonymously and without fear of prosecution — if the baby is abandoned in a safe manner.
A parent is not guilty of a crime if the infant is left with an appropriate person or in a suitable location and the parent promptly notifies an appropriate person of the infant's location.  A hospital, staffed police or fire station are examples of safe and suitable choices.
Because the mom didn't surrender the baby to a person, she is currently under investigation by the police.