Two quick-acting Michigan men saved a baby girl from certain death in a car crash as flames erupted. They pulled 1-year-old Ava Dufeck from the mangled GMC Envoy just moments before the gas tank caught fire but were unable to save her father, Daniel Dufeck, who died from impact in the single car crash.
45-year-old Steven Hill and his partner Jason Nelson were on the job as furniture movers when they came across the flaming vehicle on Florida's I-95 early Friday morning.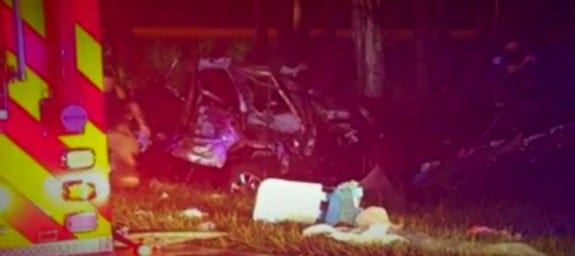 Stopping to help, they first saw only the 31-year old driver Daniel Dufeck who was unresponsive. While calling 911 for help they spotted the child in the back seat with flames growing around her. Hill dove into the car, and after a struggle with the seat belt managed to free the injured child and get her out of the car.
The baby was bleeding, and had been breathing smoke, but Hall told First Coast News "she was cooing and crying a little bit." He held her, he said, "to let her know, 'I'm here – it's OK, baby.'"
The cost of his effort is still obvious: Hill has visible burn marks on his arms from the November 20th incident.
Nelson then pulled the father's body from the car, just moments ahead of the gas tank igniting and the car becoming engulfed in flames. A tearful Nelson said in a television interview "Thank God, thank God! It was perfect timing. A minute earlier and we might not have seen her."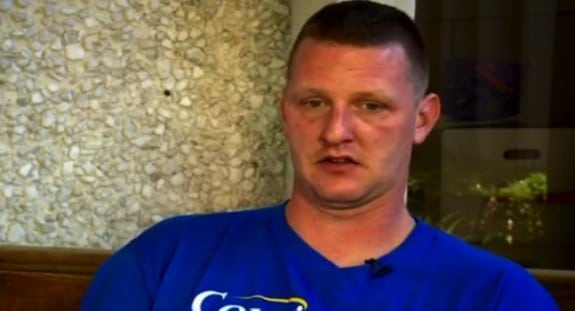 The men were invited to visit baby Ava at the hospital on Sunday. She suffered some broken bones and swelling of the brain, and was placed on a ventilator. According to latest reports she is expected to recover. Jason and Steven showed up at UF Health on Sunday to see for themselves.
They brought balloons, stuffed bears, and a gift card from Toys R Us for "when she's doing well." They also signed her cast. Hill said they just want to know if she's doing ok now, and the men were reassured by their visit.
The two men got to meet Ava's family, who have promised to keep them informed about her progress. And when they return to Florida for work in a few months they hope to see the little girl again, and find her healed and healthy.
Having saved the child, the two now feel a strong emotional connection with her. About their experience, Hill says "it will stay with me."