When Zoe the orangutan gave birth to her first baby at the Metro Richmond Zoo Taavi, her baby, had to be hand-raised after she failed to nurse him and hold him properly.
Hoping for a better outcome when Zoe delivered her second baby in December 2022, the zoo reached out to new mom Whitlee Turner, a zookeeper for a unique favor. They hoped that if Whitlee breastfed her own baby Caleb in front of Zoe she would learn from a live demonstration. Whitlee agreed to help and she and her son arrived at the orangutan's indoor house soon after Zoe gave birth.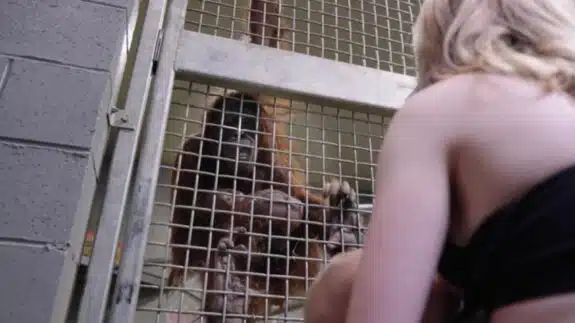 Whitlee was excited to share her breastfeeding knowledge with Zoe. Of the experience, she said:
"I just had my breastfeeding bra on, and I was able to show [Zoe] everything with zero modesty. I wanted her to be able to see the whole process because orangutans don't wear shirts. I wanted her to be able to see my breasts and see Caleb and be able to see him rooting and looking for it and the latch.
With my bra down, I was very exaggerated when I put him on so that [Zoe] could see that the baby goes here. The whole time I was talking to her and pointing at her, pointing at the baby, pointing at her breasts. And when Caleb was latched I was showing it to her, making sure that she saw the important part.
The whole time she just kept watching me curiously. She didn't immediately breastfeed her baby, but she was definitely watching the whole time."
Amazingly, less than 24 hours later, Zoe nursed her baby for the first time. In order to increase her chances of success, zookeepers worked with her while she was pregnant to kickstart her maternal instincts. She had a TV where she could watch videos of orangutan mothers giving birth and caring for their young. She watched the videos over and over again and learned from these experienced mothers.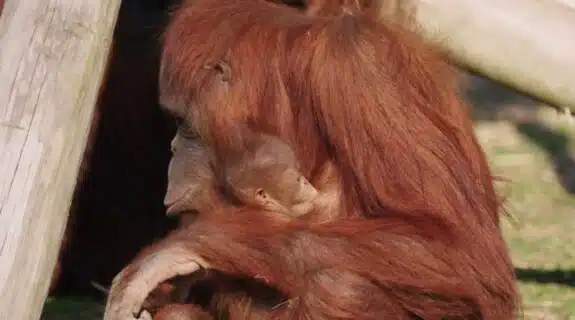 Reflecting on how this experience paralleled her journey, Whitlee said,
"I had a really hard time in the beginning as a new mom with my breastfeeding journey. [I] required a lot of guidance and help before we really figured it out. I think it was really special being able to share this with [Zoe] and help her in her journey. Whether it was an orangutan or a human, I just want to be able to help any new mom."