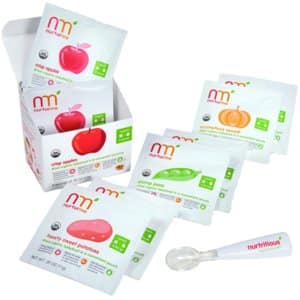 I make most of my baby food from scratch using fresh fruits and vegetables but like to have jarred food on hand in case we are heading out unexpectedly and need to quickly grab food for my little guy.  Jars can be heavy and take up valuable space in the diaper bag so I was very excited to hear about NurturMe organic baby food pouches.  These 100% organic quick dried baby foods not only lighten your load but are superior to their jarred counterparts both nutritionally and environmentally.
The first thing I noticed about NurturMe (after the cute packaging design) is how virtually weightless each pouch is.  It is a little bigger than an instant hot chocolate pouch.  They take up very little space in the diaper bag and would make an excellent choice when packing baby food for travel.  No need to worry about airline weight limits or broken glass in your luggage.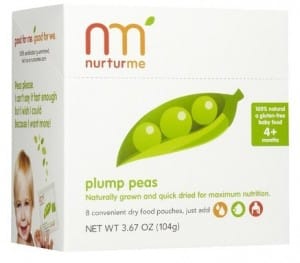 NurturMe baby foods are quick dried, ensuring that more nutrients and phytochemicals remain intact than foods that are heated like those found in jars.  There are no salts, sugars or preservatives added so you can feel confident your baby is getting a wholesome meal.  They currently offer four tasty flavours:  Plump Peas, Hearty Sweet Potatoes, Scrumptious Squash and Crisp Apples. One pouch equals a 2.5oz jar of baby food.  My son tried the peas and sweet potatoes and ate every last drop of them up with the included flexible spoon that he loved to chew on.  I tried a bite of each and was impressed with the rich fresh flavours that were much more intense than what the pureed jarred foods offer.
A great thing about the NurturMe line is that you can use the same foods for all stages by altering how you prepare it.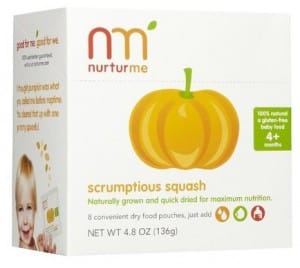 Stage 1:  mix pouch contents with three-five tablespoons of liquid (water, breast milk or formula)
Stage 2:  use multiple pouches to increase serving size, blend different flavours or use less liquid for a thicker consistency
Stage 3:  use less liquid for a chunkier texture or mix with grains and cereals
Toddlers: excellent way to add fruits and veggies into picky eaters favourite foods by sprinkling  in some NurturMe
These products are not only healthy for your little ones, but they are healthy for the environment also.  The cartons are recyclable and made using wind energy and each pouch weighs significantly less than a jar, reducing the carbon footprint from production, transportation and disposal.  So if you are looking for a convenient way to feed your little one, NurturMe offers just that and so much more.
Related Articles:
---
[ad]