The new year is not looking to be very prosperous for Nadya Suleman. The 'Octomom', who became famous in January 2009 after giving birth to a set of Octuplets, is facing eviction from her La Habre, California home if she can't come up with $450,000 before the end of the year.
According to news reports Suleman and all 14 of her children will be forced to live somewhere else if she can't come up with the money within a matter of days.
Because a bank mortgage wasn't available to her, Suleman was able to purchase the home with an unconventional loan from a man named Amer Haddadin. Unfortunately, the mother has not been able to make the large balloon payment that will allow her to keep her lavish house.
"She's current on the monthly payments of $4060," Haddadin said. "The balloon payment is the problem. Nadya needs to get out if she's not able to pay. If she can't pay, she has no business being in my house."
This is not the first time the Octomom has faced a financial crisis. The single mother is not currently working and is on government aid to help pay for her large family. The octuplets were set to appear in a UK Reality TV series in 2009, however that show did not happen.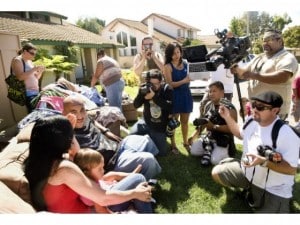 In September Suleman held a garage sale in order to raise money for her home. Despite putting many mementos up for sale, and offering photos of the family for money, she was only able to raise $2,600 – a fraction of the money needed to pay for the home.
Haddadin has given Suleman until December 31 to make the payment she owes. If she fails to do so, an eviction order will begin on January 3, 2011. – Summer, staff writer
Related Articles:
---
[ad]