For those that don't know her, little Philippa Jane Goymer may look just like any other seven-month-old infant. Her sparse bit of hair may be a little odd, but lots of babies are bald at seven months. Her bright blue eyes and her adorable smile make it hard to see just how strong she really us. This little fighter, happy, giggly and utterly adorable, has cancer.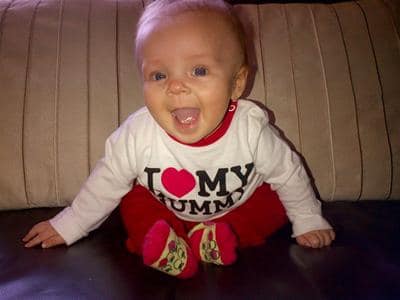 Philippa's mother, Cassie, became concerned when she was changing one of Philippa's diapers. Cassie noticed a small series of skin tags that had started bleeding. Unsure of what to think about the strange lesions, Cassie called Philippa's pediatrician. He told her that it was probably nothing to worry about but that she and her husband, Philip, could bring their daughter to the hospital and have her checked out. At the time, the little girl was just 12 weeks old.
Within the next three weeks, Cassie and Philip would learn the awful truth; their daughter had a very rare form of cancer called rhabdomyosacrcoma. It is a type of cancer that causes tumors to form in the muscles. Those tumors can be found in any part of the body. For little Philippa, the tumor would be found in a muscle that was attached to a bone.
Now seven-months-old, little Philippa has undergone two surgeries (one to remove the tumor) and four rounds of chemotherapy. She is scheduled to receive five more rounds of chemotherapy and her parents were supposed to find out whether or not she would need radiotherapy yesterday. As of late, no updates have been made.
Full-time 31-year-old mother Cassie shared what the experience has been like during her news interview:
"Never in your wildest dreams do you imagine that you'll take your baby into hospital and be told she has cancer," Cassie said. "It's been dreadful for the whole family but she's just so strong."
Her father, Philip, who is a technical advisor for Orange, shares just how strong that little girl is.
"After her last chemotherapy, she came round and had her milk, then spat it straight up, but then five minutes later was laughing and bouncing around like the happy little baby she is," he said.
Yet, as strong as she is, it just doesn't seem fair.
"She's so small and so young and hasn't done anything wrong, so why should she be going through this?" Philippa's father asked.
Thankfully, the family does have a support system it seems. Friends and family plan to participate in The Children's Cancer Run in Newcastle to pledge their support for little Philippa. Cassie says that her and her husband are overwhelmed by the amazing act of love and support as they stand by their daughter's side in her battle with cancer.
Our hearts go out to little Philippa and her parents. We hope they find strength in their amazing supporters. But even more than that, we hope that the world may have the wonderful experience of enjoying this strong, bright, wonderful little girl for years to come.
Related Articles:
---