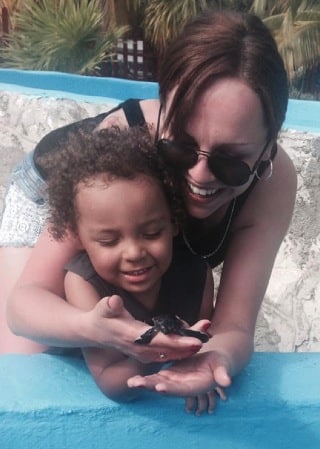 UPDATE:  Friends and family are reporting that Justine has been given the ok to leave Cuba and will be home in time for her son's service on Saturday.
On Thursday Minister of State (Foreign Affairs and Consular) Lynne Yelich tweeted.
"I personally appealed to Cuba to request help on Ms. Davis's case on compassionate grounds. Pleased to relay that Ms. Davis is free to leave Cuba. We appreciate Cuba's efforts to resolve this situation."
When the news broke Justine declined to comment about the circumstances around her release fearing it would jeopardize her return.
Cameron's father, Michael Sifontes, however, said Cuban police contacted Justine Thursday morning at the hospital and, as far as he knows, there are no charges pending against her.
"The Cuban detectives came in and made her sign something that said she's free to go. We don't get excited until she's on the plane."
ORIGINAL POST: A Canadian mom is appealing to the government for help after her 3 year-old son died suddenly while they were vacationing in Cuba. Currently in a hospital on the Caribbean island, all she wants is to be home in time for his funeral, but Cuban officials won't allow her to leave the country while they are investigating the circumstances surrounding his death.
Justine Davis' nightmare began just before Christmas while on vacation in Cuba with her son Cameron.  The pair had arrived on the island on December 20th to spend a week vacationing over the Christmas holidays.
Three days into their vacation Justine rented a Jeep to tour some of the island.  When they returned to the rental shop they were asked if they wanted to take a scooter in lieu of time remaining on the jeep rental as they had returned it earlier than expected. Justine agreed, the pair were suited up with helmets, and off they went.  Five minutes after leaving the resort the pair were involved in an accident that ejected them both from the scooter, and upon impact Cameron's helmet came off.
When emergency crews arrived Justine and Cameron were taken to two different hospitals, and it wasn't until the next day that she learned her son didn't survive.
On December 26th an air ambulance arrived to take Justine and Cameron back to Canada.  Although she was transferred to the care of the air transfer team, she later learned that she was not permitted to leave the country.  Thinking there was just a language barrier, she believed the issue would be cleared up over the next day, but instead the air ambulance returned to Canada after remaining on standby in Cuba for 48 hours.
Justine was also visited at the hospital by police, and a translator on December 26th to take her official statement.  Aside from a visit by a family member to the station, on December 27, she wouldn't hear from the detective again until January 6th.
Immediately after the accident the Canadian Embassy in Cuba was involved, but they informed the mom all efforts to secure hers and Cameron's release from the country must be coordinated via Asistur – a Cuban assistance coordination company. Despite leaving both the hospital's number and Justine's cell phone number, to date, they have never been contacted by them.
Cameron's remains were officially returned to Canada on Saturday January 18th.  However, due to the length of time since the accident, as well as the fact that embalming techniques in Cuba do not meet Canadian standards, arrangements had to be made and his funeral is scheduled in Toronto on Saturday February 8th.
During the six weeks she has been in the hospital, Justine has had five surgeries for broken bones, contusions and a large gash on her left thigh.  Despite the fact that she is well enough to be released from the hospital very soon, she has still not been cleared to return home to Canada.
"How it works here is that you're basically guilty until you're proven innocent. It's very different. There's Canadians who have been here for over two years waiting for trials." Justine told CTVNews.ca on Wednesday in a phone interview from a Havana hospital. "It's not publicized. People just don't know what they're getting themselves into when they're on vacation. And that is simply what I was doing with my son over Christmas."
The Canadian embassy in Cuba has sent 3 diplomatic notes to the Cuban officials asking to release Justine for compassionate reasons, allowing her to return to Canada for her son's funeral. As of February 1st, there has been no response from the Cuban officials to these requests.
The Toronto Sun notes that the Foreign Affairs Canada website warns these situations are a frequent cause of arrest and detention of Canadians in Cuba.
"Accidents resulting in death or injury are treated as crimes, and the onus is on the driver to prove innocence," the website read. "Regardless of the nature of the accident, it can take five months to a year for a case to go to trial. In most cases, the driver will not be allowed to leave Cuba until the trial has taken place."
Toronto immigration lawyer Guidy Mamann believes otherwise..
"The Canadian government has been criticized for being particularly unhelpful to Canadians in distress," he said. "The Canadian Embassy should be pounding on the prosecutor's office and saying, 'Either charge this woman or let her get to her kid's funeral.' You can't keep her waiting. It's inhumane."
When we travel we sometimes forget that the laws that we live by at home do not extend to the country we are visiting.  If something goes wrong, the process to clear it up can be very complicated – especially when the officials involved are not motivated to move things along. In this case however, this mom deserves, at the very least, some answers.  It is hard enough that she has lost her son, but to not be allowed to be re-united for the last time to say good-bye is heartbreaking.
"This has been a total nightmare … It's definitely going to be hard psychologically, it's going to crush me," Justine told the news outlet. "I just can't imagine not being allowed to go. I'm his mother."
Much of the story I have written here has been taken from a Facebook page that was created by famil to increase awareness about this situation and to keep the community up to date on the mom's status.
We pray that Canadian officials are able to sort this mess out and bring this mom home.
---
[ad]