While pregnant, Jillian O'Connor was diagnosed with aggressive, metastasized breast cancer. Determined to carry her son to term—which also meant also keeping herself alive long enough to do so—she underwent 12 rounds of chemotherapy and a mastectomy. Any one of those treatments could have caused something to go wrong with her pregnancy, and yet she's just introduced her son, Declan Kenneth O'Connor, to the world.
"I was amazed," Jillian told CTV News. "How he could go through so much: 12 rounds of chemotherapy, one general anesthetic when I had my mastectomy, mammograms, all of those and he came out perfect. He's healthy."
And he is, in fact, perfectly healthy.
The doctor that treated her finally got to meet little Declan, who was born February 1st. And even he's amazed at how amazing the one-week-old miracle baby is doing after everything he's been through.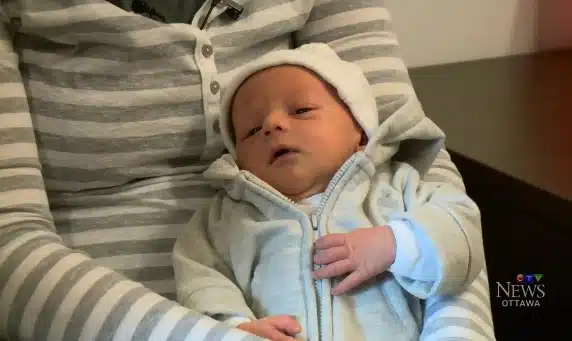 "I feel privileged that we've managed to give Jillian the choice to treat her and keep Declan alive and well and deliver a perfect little boy," Dr. Mark Clemons, oncologist at the Ottawa Hospital, told CTV News. "At a time when there is so much bad international news, the love of a mother for her unborn child conquers all."
Unfortunately, while Declan is healthy and beautiful, the prognosis for his mother isn't very good. Her cancer, which had already been found in her lymph nodes and liver, has now spread to her bones. She will have to undergo aggressive cancer treatment, starting tomorrow. Yet, oddly enough, this now mother of three continues to be amazingly optimistic.
"I think things can change," she said. "If you have hope, if you think positively and look to future, I really think things can change."
And that's what her doctor thinks is so amazingly remarkable about her.
"I think she has faced so many challenges at seeing this baby through to term," he said. "Her sense of optimism and sense of joy at holding Declan; we will face the future as it comes."
Related Articles:
---