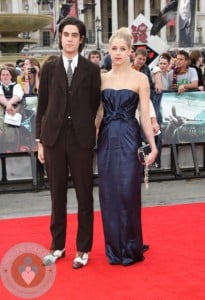 After dating for a year, Peaches Geldof and Thomas Cohen announced their engagement in December of last year. Just a few weeks later, they revealed that Peaches was expecting. Soon after, Peaches revealed her due date – April 24th – her late mother's birthday, Paula Geldof, who would have been 53 this year.
"It was amazing for me when they told me that, very emotional and touching and just really beautiful. I was so happy," Peaches revealed to Hello! after hearing her due date. "I feel like it's a little wink from my mum; her way of sending a message to let me know that she's watching over me and my baby."
But, like many babies, the due date served as only a guideline. A twitter update and a statement from her publicist revealed that Peaches is now, officially, a first-time mom.
"yes, it's true – I'M A MUMMY!" tweeted Peaches this afternoon, followed by, "My little boy is the most beautiful thing in this world. When he holds @tomfromscum's finger with his hand it's the sweetest thing ever."
Shortly after, Tom updated with, "I'm a dad he is the most perfect thing ever so proud of his beautiful mum @peaches_g and overcome with joy x."
The new addition has a name that stays true to his family's uniqueness – Astala Dylan Willow Cohen-Geldof. Peaches revealed the name a few weeks ago, before the delivery to Hello!
"We found Astala in a baby name book – quite an obscure one. This is going to be a very stylish baby," Peaches said. "I wanted a Jewish name because my fiancé is a Jew and the name is the male version of Esther."
The family is reportedly doing well, and the couple couldn't be happier, basking in their new parent bliss.
Max Dundas, Peaches's publicist, gave Mail Online an official statement this afternoon: "Peaches and Thomas are delighted to announce the birth of their son Astala. Both were overjoyed at his arrival this week."
---
Related Articles:
{WENN}
---