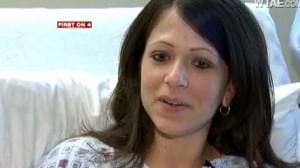 It seems there are a lot of babies that just can't wait to make their entrance here lately – including the newest addition to a Pennsylvania family, little Domenic.
Dana Highland's contractions had started around 4:20 in the morning. She told reporters that she wasn't sure if they were real or not but then Dana's water broke. So, the couple headed off for a hospital in Pittsburgh.  Little did they know, they weren't going to make it before Domenic made his entrance.
"She knew the baby was coming. She didn't make it two miles down the parkway," said Dave Highland.

"He was fairly calm – just speeding to get there, just wanting to get there," said Dana. "And he kept saying, 'We'll be there any minute,' and I said, 'There's not another minute.'"
So right there, on a grassy area on the side of Parkway East, Dave pulled over. Both parents were scared but were able to remain calm as Dave called 911 and took instructions from the emergency responders on how to tie off the baby's umbilical cord.
"He was moving his arms, and as he was moving his arms, I'm thinking 'Yes, he's breathing.' They had me check for the umbilical cord around his neck. It was clear. Other than tying the shoelace and wrapping him up, we just waited for EMS," said proud Daddy Dave.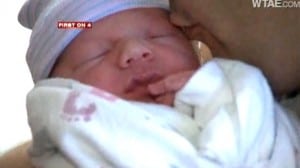 Sgt. M.G. Morrison was the first responder to the scene and noticed that Domenic had already made his entrance by the time he had arrived. Dave had removed his shirt to wrap Domenic and he was now lying on his mother's chest. Morris told reporters, "I look to the mother and I said, 'Are you OK?' And she says, 'I delivered it myself.'"
Paramedics were finally able to arrive and had taken notice that traffic on the interstate was backed up more than usual. To give the family some privacy, they hung up a sheet as they tended to baby and mother. They then transported Dana and little Domenic to UPMC Mercy where they are reportedly doing well – so well, in fact, that they are able to joke about the sudden birth of their third child.
Related Articles:
---