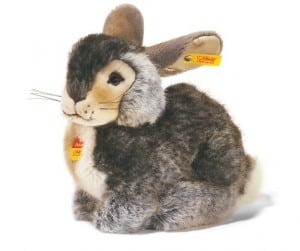 The Steiff Toy Company was founded in 1880 after founder Margaret created an elephant made of felt, that was intended for use as a pincushion. The elephant went on to be the first soft-filled fabric toy animal and soon became very popular with children, who enjoyed playing with it. By 1886 5,170 elephants were sold and other animals were added to the product range. It wasn't until 1902 that the 'Teddy' bear, named after American President Theodore Roosevelt was introduced. From 1904 on every Steiff animal leaving the factory had a "Button in Ear" to distinguish original Steiff articles from imitation products. To this day every Steiff toy can be immediately recognized by their signature button.
For Easter, Steiff has many stuffed animals that would be perfect as cuddly companions. Dossy bedtime Rabbit, Bedtime Lamb, Little Sissi Piglet and Little Floppy Hoppel Rabbit are 4 friends that are sure to be an immediate hit with your little one. Handcrafted to last, each one is unique – making them the ideal gift!
After all – giving a stuffie for Easter definitely beats dealing with a sugar high or dental bills later on.
---
---