One of the biggest struggles for parents is the amount of 'stuff' that our kids have. Often you want to have toys with you when you're out, but after you pack diapers, a change of clothes, snacks and other essentials – there isn't any room left in your bag.
Knowing this, Playskool introduced the Play, Stow & Go collection. This cool collection was designed to offer kids all of the features of a full sized toy in a smaller package that you can take on the go!
There are 8 toys in total in the line and we have 4 that our little testers have been playing with.  They have been a huge hit with parents and kids.  Parents love that they're priced perfectly for gifting or as something quick to grab for on the go, and the kids all loved the great features that Playskool has stuffed into this collection!
Here are our favorites:
The Pop-up Shape Shorter is just over an inch high when folded, but it is expandable when it's time to play!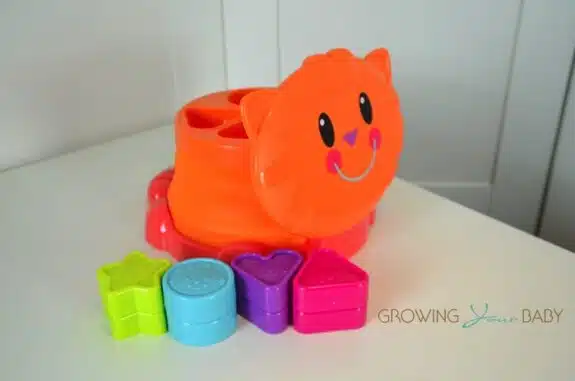 This bright cat comes with 4 shapes that separate into 8 for added matching play. Kids can use the shapes to learn their colors, numbers, shapes and animals.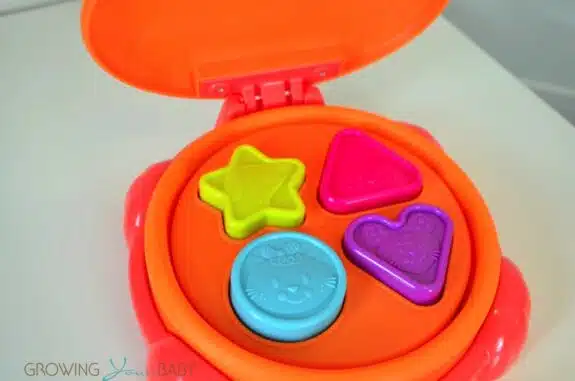 When they are done playing, the set collapses and fits perfectly in the side of your bag.
The Roll'n Gears Car is cute because kids can use it as a car, stacker or gear meshing toy.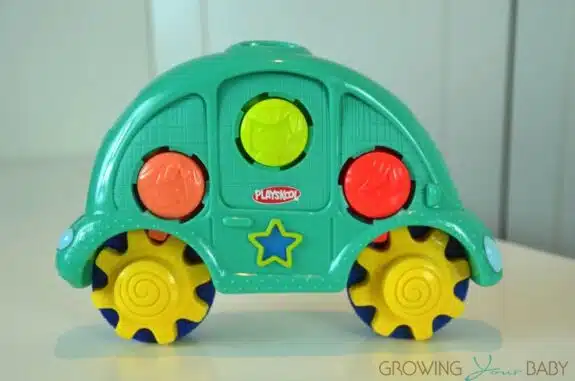 Just like the Shape Sorter above, it's just over an inch tall, but opens up to reveal 5 different gears. The gears can be removed to stack on top of each other.
The Fold 'n Go Busy Elephant come in two colors, Blue and Pink. True to his name, he folds up into a ball that fits into the side of your bag.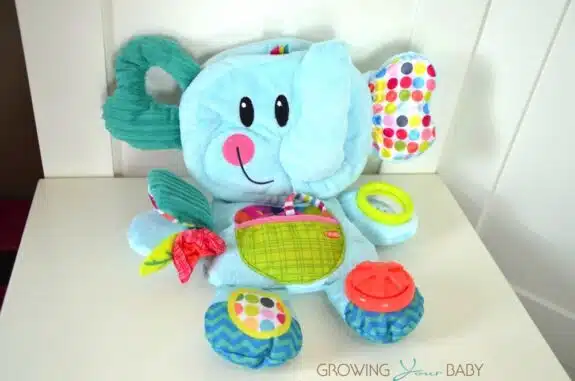 When kids unroll him, however, he features 7 busy activities for tummy-time entertainment.
One of our favorite features of this guy is how sooooooo soft her is! The first thing our little testers did when they got a hold of was hug him. Then, when they saw all the surprises hidden underneath, he was a huge hit!
With lots of fun colors, textures, and sounds to explore, the Fold 'n Go Busy Elephant is an activity filled guy that is perfect for tummy time, or just as a friend to bring in the stroller.
The Dressy girl/boy doll gives kids practice mastering 5 important skills; zip, button, buckle, fasten and tie.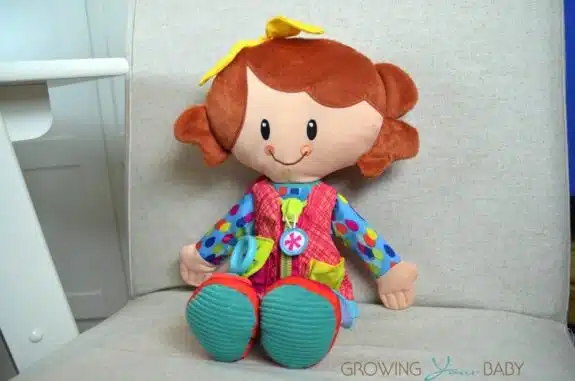 This doll is soft, easy to take along and machine washable!  All of the doll's features are sewn on and she make such a great companion for little ones!
---