Elizabeth Whitehead did not know she was pregnant and therefore it was a shock for her when on Tuesday she delivered her baby boy on her home front lawn. What made matters worse was the baby was extremely premature and not breathing.
At 11 a.m. on Tuesday, Officers Michael Moore and Vincent Damiano of the Barnegat police and members of Quality Medical Transport rushed to the New Jersey home when they learnt that a 21 year old had just delivered a child.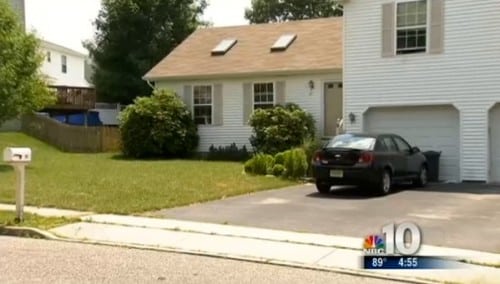 When they arrived they found the mom and the 24 week baby on the front lawn. When they realized the baby was not breathing Moore and Damiano immediately performed CPR on the 2 pound baby boy until the ambulance arrived. Moore continued to assist the first aid personnel in the back of the ambulance and perform CPR on the infant until they arrived at the Southern Ocean Medical Center.
At the home the new mom was looked after by other police officers until a second ambulance arrived to take her to to a nearby Hospital where she was treated and later released.
Michael Essig, a Quality Transport EMT said that after two rounds of CPR the baby began 'crying' after about 20 seconds. In all the officers and the paramedics had to give the infant five rounds of CPR while the mother lay beside him.
The new mother told the officers that she had taken two rounds of pregnancy tests and both had turned negative.
However, Damiano recalls that she and the baby's father, both seemed to be very calm during the whole incident
He said that when police arrived, "the baby was completely untouched on the lawn.. It was still attached to the umbilical cord and placenta."
The baby's face had turned purple and the emergency crew immediately performed CPR to help him breathe until the first aid personnel arrived and cleaned his airway.
"It's an amazing feeling to know that we could help give this baby a fighting chance," said Moore.
The baby is said to be stable now, and producing normal body fluids at the Jersey Shore Medical Center Neonatal Intensive Care Unit.
"It looks like he's going to pull through," said Essig.
More details might arrive later as to whether the mother was aware of her pregnancy or was perhaps trying to hide it.  The young couple is also parents to a 9 month-old child.
---
[ad]