UPDATE: Monday September 26: Sadly, little Galiba passed away on Sunday evening.
Aftab Yusuf Raj, senior consultant of neonatology department of the hospital, said the baby did not get the time to grow the immunity system and was severely underweight.
"Born in 23 weeks, she weighed only 700g. None of her internal organs, especially the lungs, had fully developed. She also contracted a number of infections during the time she was left unattended after being declared dead," said the doctor.

"Had she been born after just one more week, her chances of survival would have been much higher," he added.
ORIGINAL POST Saturday September 24: It is often said tiny preemies are the biggest fighters, and that couldn't be more true for a 23 week old baby Bangladesh who was declared dead by doctors started crying out while being buried.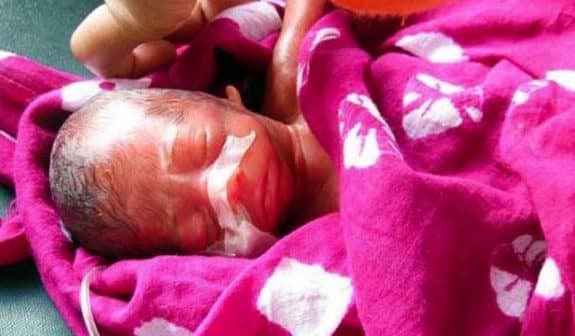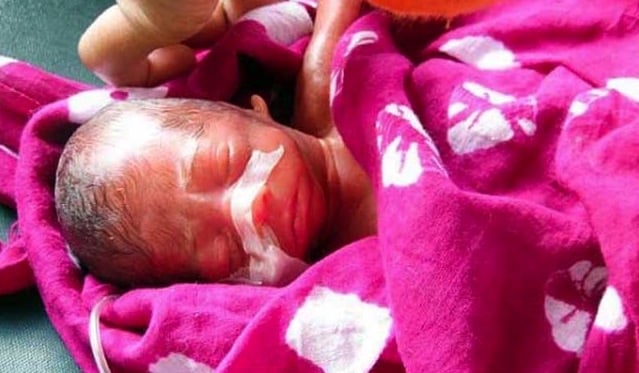 Cricket team player Najmul Huda and his wife Naznin Akhter, welcomed their first child on Thursday in Faridpur, about 140 km from the Bangladeshi capital.
Born at 24 weeks, weighing just 700 gms, the baby girl was pronounced dead just two hours after her birth and was taken to a nearby graveyard for burial.
With the service scheduled for Friday morning, the 'presumed' dead newborn spent the night in a carton at the graveyard.
The next morning, however, when the service was completed for her burial, the little fighter, who has been named, Galiba Hayat, shocked everyone and began crying.
She was immediately rushed to a nearby hospital before she was transferred to a better facility in Dhaka.
The baby's grandfather Abdul Kalam said, "Doctors had referred her to Dhaka on Thursday itself but we could not do so owing to financial condition. On Saturday, a person who is unwilling to reveal his identity, expressed his desire to bear the cost of her treatment and arranged for her to be taken to Dhaka's Square Hospital for treatment by helicopter."
"The newborn is in a serious condition as she was born 24 weeks into the pregnancy and weighs 700 grams. So she was sent for intensive care treatment to Dhaka. If she gets good care, good results may be expected," Faridpur Sadar Hospital Head of Paediatrics Dr Khondokar Mohamed Abdullah said.
---
[ad]