No one should ever have to go through the kind of situation facing 32-year-old Victoria resident, Dylan Benson. As Dylan and his Robyn were planning to welcome their first baby, Robyn suffered a cerebral hemorrhage just after Christmas. She was rushed to the B.C. hospital and declared legally brain-dead. However, ultrasounds revealed that the baby was still alive. Along with the hospital, Dylan decided to put his wife on life support. The reason for the extraordinary measures is that doctors feel that the 22 week-old fetus will stand the best chance of surviving if he can stay in his mother's womb until week 34.
Now Dylan is going through unimaginable pain of keeping a vigil as doctors ensure his wife's body's functions are being maintained for seven more weeks. At that time, the baby can be delivered by caesarean section and Robyn will be taken off of support machines.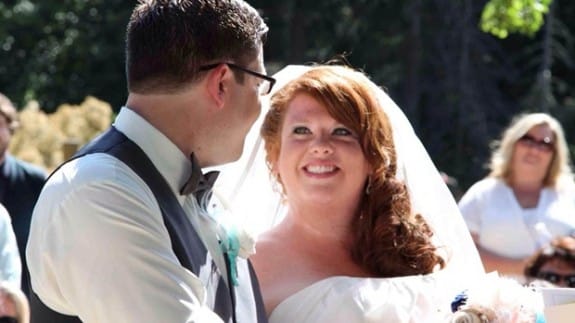 "My head and my heart are constantly playing this chess match and it's so painful," Benson wrote on his blog. "On one hand, I can't wait to meet my son and try, and give him the best life possible and try my hardest to be a great dad for him. On the other hand, I know that the day or the day after he is born will be the day that I have to say goodbye to Robyn."
This sad incident has forced Dylan to take a leave of absence from his IT job. Not only does he have to get the baby's room ready and all that goes with that, but also he has to plan his wife's funeral. After Baby Boy Iver is delivered, there is no way of know how long Robyn will live for.
Fortunately, for Dylan he is not alone in this monumental struggle. His entire community is rallying around him to offer support. Rod Phillips is the director of marketing and buying at Vancouver Island's Liquor Plus stores. He is also a close friend of Dylan and Robyn. He started an in-store fundraiser to provide some much-needed financial support.
In addition to that effort, Dylan was encouraged to set up another fundraiser online through YouCaring.com. This has allowed contributors from all over the world to help Dylan pay for baby expenses and loss wages. So far, they've raised just over $26,000 with the ultimate goal of $36,000 within reach.
"It's one of the toughest things I can imagine ever having to go through," Phillips said to CBC News. "I just can't imagine that. So any help that we can provide as Liquor Plus or as a community is money well spent."
While this situation may seem unique, it is the third case we have seen this year. Last week doctors in Hungary revealed that they had delivered a baby in its 27th week after its mother suffered a stroke 13 weeks into the pregnancy. While the sex of the baby, and the identity of the family have been kept a secret, doctors did note that the baby was released home in good health after a short stay in the hospital.
We pray that this will be the case for the Benson family.
---
[ad]