A pregnant Kourtney Kardashian was photographed trying to gracefully get into boyfriend Scott Disick's Rolls Royce on Thursday.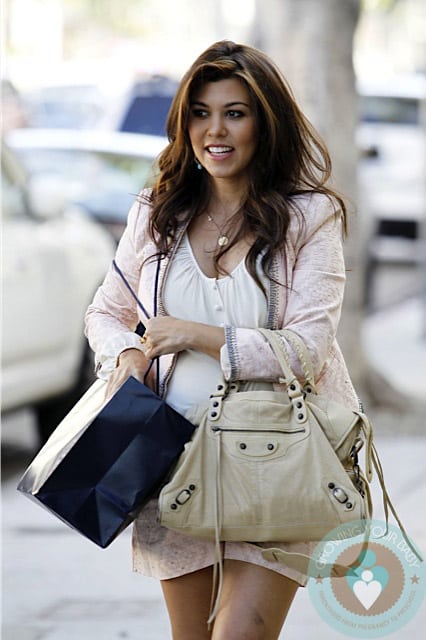 Looking fabulous in creme the reality star is not giving up her style and sported a pair of high heels.  Pregnant with her second child, a girl, Kourtney shopped with Scott on Robertson for the new baby.
Kourtney's sister Kim recently revealed that her nephew has decided that his little sister will be named after a character on the popular kid's show Caillou.
 "I don't think she goes for the K thing. I said, 'Are you going to start the M thing?' And I don't think so either. Mason wants to name her Rosie because his favorite cartoon character, I forget the guy's name, but he always tells me his sister is named Rosie so he thinks that any sister is a Rosie."
Kourtney is enjoying her second pregnancy but is struggling a bit because she's bigger than her first time.
"She's doing so good. She's really calm. She's a little bit bigger this time than she was last pregnancy at this time so she's a little bit uncomfortable already at that phase. She's doing good but I feel so bad for her because she's getting so big a lot quicker."
---
{SPLASH}
---
[ad]