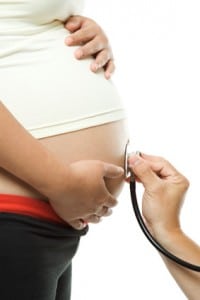 A Florida mom, who was ordered by the court to bed rest at Tallahassee Memorial Hospital, is now fighting for justice after she says her constitutional rights were suspended in order to protect her "unborn child."
Samantha Burton, who was 25 weeks pregnant in March 2009 and experiencing preterm labor, went to her doctor and later to the hospital on his advice. There she came to know that because of pregnancy complications, she would have to stay at the hospital for almost three months or until the delivery. She was also advised to quit smoking.
Because Samantha had two toddlers at home, there was no way that she could leave all commitments and be at the hospital for months. When she refused to heed the advice, the hospital officials obtained a court order to force her to submit to anything to "preserve the life and health of [her] unborn child."
26 years old Samantha miscarried after three days and was later discharged, but the scar of the mistreatment she faced at the hospital remains and with the help of Florida American Civil Liberties Union she is now fighting to strike down that harsh court order.
"Women do not give up their right to determine the course of their own medical care when they become pregnant," said Diana Kasdan, staff attorney with the ACLU Reproductive Freedom Project.
According to David Abrams, Burton's lawyer, this kind of state intervention could have serious repercussions as then pregnant women could be criminalized for just about anything like drinking wine, avoiding their prenatal medicines etc.
"She was having difficulty quitting smoking and wanted to go home to be with the children and not be alone in a hospital room for three months"
Mr. Abrams also stated that she was also not given a second option by the hospital to be at a less restrictive facility or with a friend who offered to help. The hospital just brought the state order from Leon County court that said in broad terms "any treatment deemed necessary to respect the fetal health and made her a ward of her doctor."
Samantha says the fight here is not for monetary benefits or for refusal of medical care, but to allow the women herself to take a decision that involves her health, pregnancy and family. Legal intervention cannot force and disregard a women's right to make her own choices. – Atula, Staff Writer
[ed. note – before you all say it, I know that a 25 week baby is NOT a miscarriage. The original source only states that 'it was late at night and she was alone and in pain'. It does not say if the baby arrived still born or if resuscitation attempts were made.
Additionally, I do not support this mom's fight. While I understand the bigger picture, I agree with the hospital in this case. Once you become pregnant. It is your responsibility to do what it takes to make sure your baby arrives safely. Obviously her situation was dire enough that physicians believed that being at home with 2 younger children would jeopardize the health of the baby – Lisa ]
Related Articles:
Suprijono Suharjoto – Fotolia.com
---
[ad]