Years ago I was at a potluck Christmas party when I spotted asparagus spears wrapped in something… On my friend's recommendation, I tried one and was hooked! The perfect combination of salty and juicy, Prosciutto Wrapped Asparagus is a great option if you're looking for a fancy side dish or a party appetizer.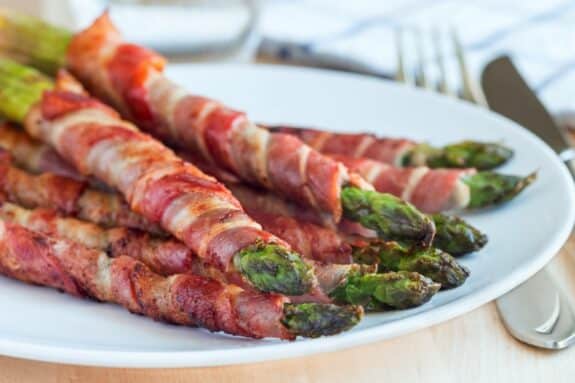 Prosciutto can be very expensive. We have a local deli that sells Canadian Proscuitto for $2.49/100gms. Costco also has it for $8.99 for 300gms. Depending on how many of these asparagus spears I'm going to make I pick the store that is the best option at the time. I've been lucky lately and have found asparagus on sale at a few grocery stores. Getting a deal on both makes this a great dish that doesn't break the bank!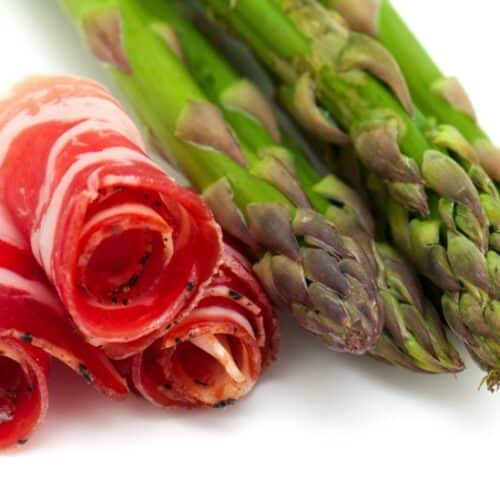 Proscuitto Wrapped Asparagus
Equipment
Baking Sheet

Parchment Paper

Garlic Mincer

Butter Brush
Ingredients
2

tbsp

butter

1

clove

garlic

20

spears

Asparagus

10

slices

Proscuitto
Instructions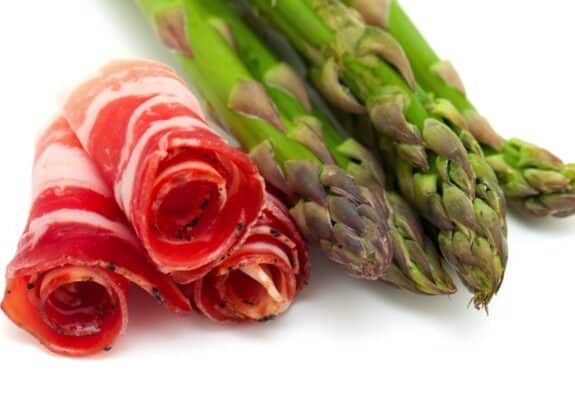 Preheat Oven to 425.
Snap the ends of the asparagus. The easiest way to do this is to grab the spear and bend it. It will break at the best spot.
Cut the Proscuitto slices in half.
Melt the butter.
Mince the garlic and add to melted butter.
Brush the garlic butter on the asparagus spears. Reserve some for the end.
Twist the Proscuitto slices around the asparagus spears. It doesn't have to be perfect. When it cooks it will shrink and bake onto the asparagus.
Once completed, line them next to each other on the pan and brush the remaining garlic butter on the tips and ends. I like using garlic butter because it gives them added flavour. It also helps keep the Proscuitto on the asparagus spears. It doesn't fall off. If you aren't a fan of garlic you can leave that out.
Bake in the oven for 10-15 minutes. Timing is dependant on how crispy you would like the Proscuitto to be. I cook it until the tips of the spears are starting to crisp.
Let cool and serve.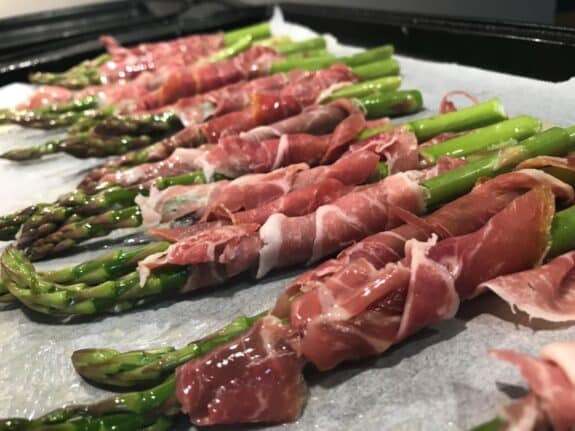 Rarely do these make it to the table or even to a serving plate. As soon as they're done. The team comes running and they're gone. Definitely an all-around favorite!