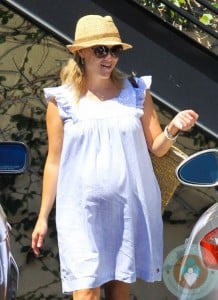 Radar Online is reporting that Reese Witherspoon was admitted to the hospital on Wednesday and doctors plan to keep her for a few nights, to prevent the baby from coming early.
According to their 'source' the actress was taken to a Los Angeles hospital on Tuesday evening, but  was released that night, and then re-admitted again on Wednesday.
"Doctors are keen on keeping her from going into an early labor so the baby's development will go to full term," a source told RadarOnline.com.

"Reese's husband Jim hasn't left her side and he doesn't plan to."
The new baby will be the first child for Jim and Reese, but the third for the actress.
"Jim is really worried about the baby. He's a first-time father so this is all really new to him and he just wants everything to be okay," the source revealed.

"He's a bundle of nerves. Meanwhile, this will be Reese's third child, so she's been through this before and she's trying to keep him calm."
The good news is that Reese is very close to her delivery date. So if the baby arrives now it would only be a few weeks premature.
---
[ad]