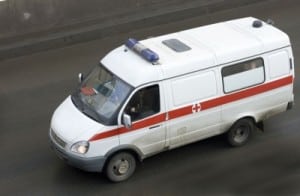 For the fifth time since January, a Saskatchewan mom has given birth at the side of the highway.  And while that in itself is unusual, this mom was pregnant with twins but only delivered one at the side of the road.  The event, which will more than likely be a family tale for years, happened over the lunch hour this afternoon 25 kilometers outside of town on Highway 16.
Troy Davis with MD Ambulance told the media both of  the 20-year-old woman's babies were breech.  Thankfully the little boy arrived safely and the EMTs were able to get them to Royal University Hospital to deliver the second baby – also a boy.
Davies says the mother and both children are doing fine.
Related Articles:
---
[ad]