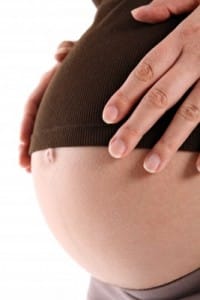 Pregnancy weight gain. Some of us gain too little. Some of us gain too much. But we often fail to recognize just how much weight we're going to gain in that last trimester. And interventions used in the last trimester may be futile at managing excessive or too little weight gain. Thankfully, it seems that researchers have determined a possible resolution to the pregnancy weight gain dilemma.
Gaining too much weight can increase the mother's risk for both hypertension and diabetes. These conditions can put the baby at risk for long-term health problems, like childhood obesity, and possibly even necessitating an early delivery because of pregnancy complications. Gaining too little weight can lead to complications like pre-term birth and smaller-than-gestational-age infants.
Essentially, the recommended weight gain guidelines are based on body weight before pregnancy. For women that are underweight before pregnancy, the Institute of Medicine recommends a weight gain of 28 to 40 pounds. Average weight women should gain between 25 and 30 pounds. Women that are overweight should put on between 15 and 20 pounds. Obese women should gain between 11 and 20.
After gathering weight gain information on 7,962 pregnant women living in Germany, researchers from the Institute of Social Pediatrics and Adolescent Medicine at Ludwig-Maximilians University Numich in Germany found that second trimester weight gain was key in helping women stay on track with their pregnancy weight gain goals.
Based on their results, researchers found that normal-weight women who had gained too much weight during their second trimester had a 74 percent chance of gaining too much weight by the end of their pregnancy. Overweight women who gained too little weight during the second trimester had a 72 percent chance of gaining too little weight, overall, during the pregnancy. Overweight women who gained too much during this time period had a 94 percent chance of gaining too much weight overall, and obese women who gained too much weight had a 93 percent chance of gaining too much weight at the conclusion of their pregnancy.
"If you tell somebody, 'you should have put on less weight,' it doesn't help the person very much," said study researcher Rudiger von Kries.  But he says that y tracking weight gain during the second trimester, physicians and OBGYNs can intervene early, helping prevent too little or too much weight gain before the trimester arrives through dietary advice, physical activity recommendations and weight monitoring.
Published in the online May 2 version of the American Journal of Clinical Nutrition, the study may very well help many women reach their pregnancy weight gain goals.
Related Articles:
---
[ad]