If you have a child with autism then you know how challenging it is to just accomplish the daily basics, let alone special events.
For years we couldn't go into public washrooms for fear someone would dry their hands with the hand dryer and set my son off.  Walking by a shop that makes smoothies could send him into tears because of the loud sound of ice being crushed or even just being somewhere with a crying baby that won't stop.
Christmas creates a whole other level of challenges, bright lights, busy crowds and unexpected excitement from other children.  This paired with the fact that my son is not very good with social etiquette, is hard to keep focused and sometimes wanders into areas he shouldn't, makes it very hard for us to just do the small things like visiting Santa.
Knowing this a few select malls across Canada are making special arrangements so that kids with autism can take part in this popular holiday tradition.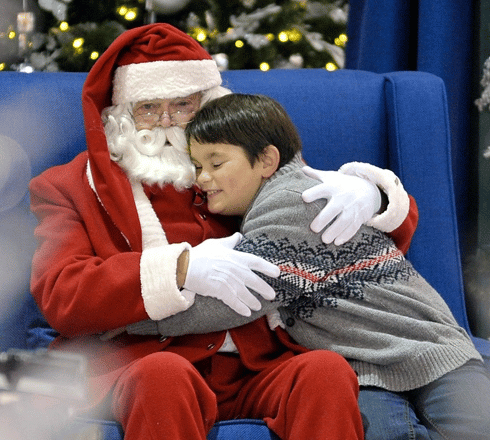 The visits, the CTV reports,  take place before the mall opens, so families can avoid the busy crowds. As well, the lights and music are turned down to provide a calmer environment.
Calgary's Southcentre Mall  adopted the autism-friendly photo sessions last year after the mall's community relations manager Krista Moroz, was made aware of the challenges special needs children faced through a friend.
Toronto's Scarborough Town Centre is also one of the malls offering the service this year.  Parents at the Scarborough mall told the news station they're happy that their kids can take part in the holiday fun.
"My son has real issues dealing with crowds, so as a result meltdowns are pretty common for him," Frank Heaney said. "So having a nice, quiet moment is well worth it."
In Ontario Oxford Properties runs Yorkdale Shopping Center in Toronto, Square One in Mississauga, Upper Canada Mall in Newmarket, Hillcrest Mall in Richmond Hill and the Scarborough Town Center.  In Alberta they have the Edmonton City Centre, Kingsway Mall in Edmonton and Southcentre Mall in Calgary.
As a mom who spends a great deal of time planning our outings based on sensory triggers, this initiative makes me happy because I know that Santa holds a very special place in most children's hearts and they should be able to have their moment without being set off by some unforseen noise or event.
---
[ad]