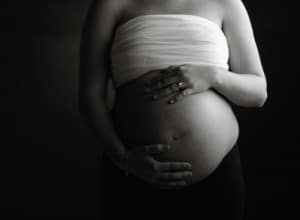 According to the American College of Obstetricians and Gynecologists, pregnant women are more likely to end up hospitalized from the flu than non-pregnant women. Yet, only 25 percent of pregnant women get vaccinated for it. Now the medical organization is urging all pregnant women to get their flu shots, as soon as possible.
The recommendation to get the flu vaccine when pregnant is not a new one, but it is one that has not been heavily pressed in the past. The ACOG has now made a commanding statement, published in the journal Obstetrics and Gynecology, that puts more pressure on pregnant women to get the shot. Dr. William M. Callaghan of the Centers for Disease Control and Prevention, says the CDC supports the ACOG's recommendation.
The Food and Drug Administration has not approved the flu vaccine for infants younger than 6 months. However, the vaccine's effects can be passed on through breastmilk after birth according to Dr. Callaghan. Because of that, he says the shot protects both the mother and the baby.
There have been some opposition to the flu vaccine due to the mercury-based preservative thimerosal. For families that worry about these, there are thimerosal-free alternatives are available in most places. – Summer, staff writer
Related Articles:
---