On Christmas Day, 2010, Sir Elton John and David Furnish welcomed their very first bundle of joy. Now they're parents of two beautiful babies; the couple has introduced their newest addition, son Elijah Joseph Daniel Furnish-John, born on Friday, January 11th.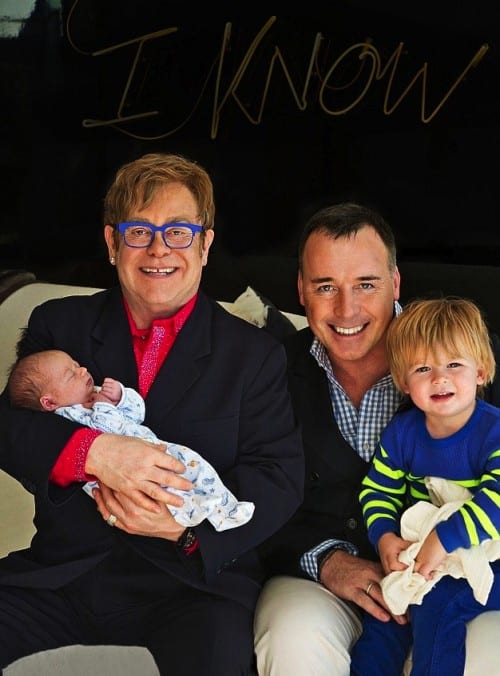 Despite the fact that both babies were born via surrogate, the couple revealed that the babies are at least half-brothers because they share the same egg donor. They also had the same California-based surrogate mother, whom the couple says they love "like a sister," but it is unclear as to whether or not the surrogate mother also supplied the eggs.
In fact, Elton, 65, and his civil partner, David, 50, have been very protective of their surrogate and of the specific genetics of their children. It hasn't been made public whether or not either Elton or David are biological fathers to either Zachary or Elijah, and the identity of the surrogate mother has been a well-kept secret.
"She is a wonderful, kind and loving woman, who we love like a sister," Elton told Hello magazine. "We have a very close bond with her and were in constant touch throughout the pregnancy, getting updates, seeing scans and sharing all the little details that make those nine months so exciting. She has given us two amazing gifts and we, in turn, have a duty to care for her and are fiercely protective of her anonymity."
And even though the mother may have likely been paid a large sum for being a surrogate since California laws do not restrict couples from paying large amounts to surrogates, it is likely that the mother is also very closed mouthed about her role in helping the family have their baby. But regardless of whom she is or whether or not she became "rich" off the deal, it is clear that she has given Sir Elton and David a treasure worth much more than money could ever buy.
"The birth of our second son completes our family in a most precious and perfect way," Elton's civil partner, David, told Hello. "It is difficult to fully express how we are feeling at this time; we are just overwhelmed with happiness and excitement."
But Elton admitted that he was a little nervous about adding a second baby to their happy family. Already completely in love with first son Zachary, he worried that he wouldn't be able to love another child as much as he loved his first son. Of course, he learned what most parents of multiple children already know.
"I have learned that a parent's capacity for love is endless," he said. "When another child is born, our depth of love just grows deeper and wider, so it was very emotional."
David expanded on that statement, saying, "Throughout our lives, we have both loved and been loved, but the love of a parent for his or her child is different to anything else, as all parents will know. You find new depths of love, and experience pure joy. Both of us have longed to have children, but the reality that we now have two sons is almost unbelievable."
The pair did try to adopt before going the surrogate mother route. However, they had been turned down for adoption because of Elton's age. And while it's definitely not too little too late for the couple to raise their children, Elton expressed a bit of sadness over waiting so long to have children.
"It changes everybody. It's the most wonderful thing you could possibly go through," he said. "I regret a little bit that I didn't do it sooner, but he (Zachary) has changed our lives. Everything is about him now. He's gorgeous, he travels brilliantly, he so loves people, and it makes our lives – he's the icing on the cake."
And if his older brother, Zachary, is any kind of indicator, little Elijah will be well taken care of. Zachary's godmothers are Lady Gaga, magazine editor Ingrid Sischy, and Sichy's partner, Sandy Bryant. Elton and David spent thousands of dollars on Zachary's nursery, and they even had breast milk from the surrogate shipped around the world to them while they were travelling.
Related Articles:
---
[ad]