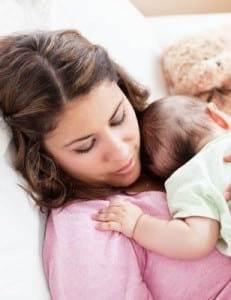 Before they are born, a baby spends nine months in his mother's womb and therefore instinctively recognizes that he is most safe close to his mom. Researchers are now pointing out that it is best for newborns to sleep with their mothers as separation from mothers leads to anxiety and stress in the infants.
Contradicting from the earlier idea of previous researches that have said that co-sleeping could lead to high risk of Sudden Infant Death Syndrome (SIDS) scientists at the University of Cape Town have found that sleeping apart from their mothers could place a large physiological stress-load on infants.
For the small study researchers measured the heart rate of 16 two day old infants first when they slept on their mother's chest and later when they slept on their own. The team measured the heart rate variability – in which the irregularity between beats is measured and is a non-invasive way of testing stress.
Dr Nils Bergman, co-author to the study noted that ideally infants showed sleep cycles where period of active sleep and quite sleep continued for an hour at a time. But they found that with infants who were separated the sleep cycle was absent.
"In our study, sleep cycling in separated babies was mostly absent, and in six of 16 babies that did show some quiet sleep when separated, it was shorter and shallower," Bergman said.
He said that in the early days of a baby's life, it is advisable that mother's separation should be avoided as much as possible and although it is a controversial subject, sleeping on mom's chest is really the best solution.
This new research again sparks the debate going on against and in favor of co-sleeping.
According to The American Academy of Pediatrics co-sleeping leads to high risk of Sudden Infant Death Syndrome and in 2007 it was the third leading cause of infant deaths in US. Dr Rachel Moon of the AAP believes that skin-to-skin contact between the mother and child is important but their needs to be a balance between bonding and ensuring that the baby is not at risk.
The doctor also points out that while 'quiet' sleep is important, Dr. Moon notes that babies should be able to wake up if they need to – particularly if they aren't getting enough oxygen. This, she says, 'may not be as easy if the child is in deep sleep and obstructed in some way'.
Both doctors however point out that it is the parents who need to be taught by caregivers the right technique of co-sleeping so that the baby is not stressed and also not at any risk. They also need to know and recognize any signs of distress in their child.
Related Articles: