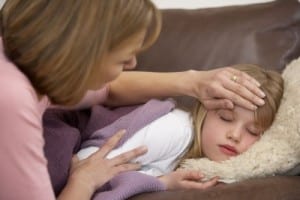 Research on the H1N1 flu pandemic from 2009 has found that children are more susceptible to brain malfunction and damage from contracting the flu strain than from the seasonal flu. Seizures and other neurological complications are more likely to happen to children with H1N1.
Researchers from the University of Utah, Clinical Neurosciences Center, found that the H1N1 flu pandemic in 2009 caused a higher incidence of neurological complications in children – especially seizures and encephalopathy (brain malfunction or damage) – than the seasonal flu. Between April 2009 and April 2010, an estimated 89 million people in the US contracted H1N1. This data came from the Centers for Disease Control and Prevention (CDC), who estimated that between 14 to 28 million of those infected were children.
Researchers, led by Josh Bonkowsky, M.D., Ph.D., looked at the reported cases of children with H1N1 during that time and those with the seasonal flu virus. Children who had been hospitalized with neurological complications from the flu viruses were analyzed and compared. This included children who had seizures, aphasia, encephalopathy and other complications.
The researchers found that 303 children had been hospitalized with H1N1 during the pandemic. Of those, 18 had neurological complications of some kind. The majority being seizures and encephalopathy. Of the children reported with seizures, half were in life threatening status. The children who were hospitalized with neurological complications, 83 percent had underlying health conditions and 66 percent had neurological issues.
For those with seasonal flu, 203 were hospitalized, 16 of which with neurological issues. For these children, only 25 percent had underlying conditions. None of the children with the seasonal flu were reported to have encephalopathy or aphasia.
We found that more pediatric H1N1 patients had neurological deficits and required ongoing treatment with anti-epileptic medications upon discharge from the hospital.
For children who were hospitalized with severe neurological complications, treatment for them was not effective. Neither steroids nor intravenous immunoglobulin offered help for those with encephalopathy. The researchers say this is why creating a vaccine to prevent another H1N1 outbreak is so important. – Summer, staff writer
Related Articles:
---