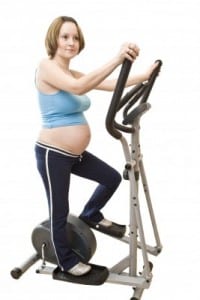 Researchers from the US and New Zealand have found a link between exercise during pregnancy and the weight of children. This study shows that exercise during pregnancy is good for more than just the moms to get.
The study followed 84 first-time mothers, half of which were asked to exercise for 40 minutes five times a week. The women who did the weekly time had newborns who were slightly thinner than those who did not exercise. The researchers are looking at the growing evidence that heavier babies are more likely to grow into obese adults, and combining it with this new research on how exercise affects infants.
The light exercise routine did not stunt the growth of the infants during pregnancy; however it did reduce the extra layer of fat that the babies normally put on. The environment in the womb, including whether or not the mother exercises, may effect the metabolism that the child will have later on. Larger babies can lead to larger adults, with slower metabolisms so that they are less able to lose the weight.
Official guidelines are for mothers to exercise lightly during pregnancy for their health.
"Given that large birth size is associated with increased risk of obesity, a modest reduction in birth weight may have long-term health benefits for offspring by lowering this risk later in life," says Dr. Paul Hoffman, leader of the study. – Summer, staff writer
Related Articles:
---