Morning sickness is experienced by 50 to 60 percent of all pregnant women. In most cases, morning sickness is a temporary condition that dissipates as the pregnancy progresses. However, for some pregnant women (about 1 percent), morning sickness can cause severe disturbances in everyday life. Unfortunately, data from a new study shows that morning sickness may end up being the least of their worries.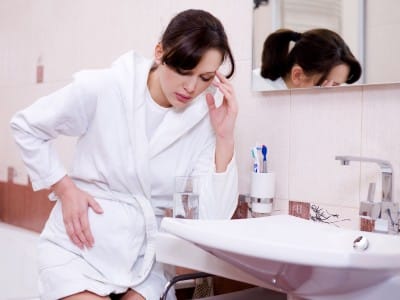 In the study, conducted by Dr. Gary Stanziano of Alere Health and his colleagues, data was compiled on 81,486 postnatal women between the years of 2004 and 2011. Each woman was asked if morning sickness had interfered with their daily activities. Of those women, about 6.4 percent said that nausea and vomiting had impacted their quality of life during pregnancy; 1,800 said they did not need medical intervention for their morning sickness and 3,300 said they needed medical treatment, including hydration help.
Overall, researchers found that women who experienced severe nausea and vomiting were 23 percent more likely to deliver preterm and 31 percent more likely to experience complications such as high blood pressure or preeclampsia than women who said their morning sickness was mild. Women with severe morning sickness were also twice as likely to experience low weight gain during their pregnancy and 10 percent of all women with severe morning sickness gave birth to infants that were small for their gestational age.
While researchers are unsure of all of the contributing factors behind the health-related conditions experienced by women with extreme morning sickness, they believe that the two biggest contributing factors are poor nutrition and low weight gain.
"Indeed, it's hard to tell whether the effects seen in the study were due to nausea and vomiting or to the low weight gain these women experienced," stated Dr. Jennifer Wu, an obstetrician and gynecologist at Lenox Hill Hospital in New York City, who was not involved in the study. "Poor weight gain has previously been shown to be associated with preterm delivery and babies born small for their gestational age."

"The findings underscore the importance of recognizing morning sickness and managing it" said Dr. Stanziano. "This should not be a condition that's taken lightly."
Currently, there aren't any FDA approved options for women experiencing severe nausea and vomiting during pregnancy. However, Stanziano does say that there are many therapies – hydration therapy, nutritional supplements, off-label medications and change of diet – that can be used for severe morning sickness and any woman experiencing this troubling condition should talk to their doctors.
Related Articles: