Always a family favorite, Step2 didn't disappoint when they revealed what would be new for them this year at Toy Fair 12 this week. Ahead of the show I had read a few of their PR releases debuting their new Corvette bed, Grand Walk-in kitchen and Clubhouse so I was excited to see these products close up.
Parents of little ones 1 year and up will love the improvements Step2 has made to their popular Whisper Ride car. The original blue car ($59.99) has been re-styled and now features a folding handle for easy car transport, as well as two cup holders – one for the child and one for the parent.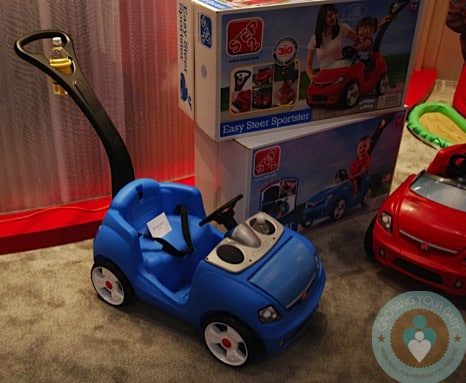 The brand-new Easy Steer Sportster($69.99) is great because of it's easy manoeuverability. Parents are able to direct the car effortlessly thanks to new full turn front wheels and a center caster wheel that engages for easy swivel turning. The caster wheel can also retract for riding on rough terrain. The hood opens to reveal a storage space perfect for snacks or supplies. Additionally, the Easy Steer Sportster features a cup holder and in-dash phone holder as well as a cup holder for adults right in the handle, that pivots and stays level with the ground. Plus it's red and sporty!
Step2 has also added a new wagon to their collection that was designed with parents in mind. The multi-function All Around Wagon($79.99) includes six cup and snack holders (two on the exterior for mom) and maintains the brand's popular easy access door feature. Kids can sit bench style(with safety belts) on either side or the bench can fold in to create a traditional flat bed wagon that can haul supplies to the back yard. Step2 has also added some back door storage for diapers, snacks or a change of clothes.
It also was designed to include Whisper Wheels to help ensure a smooth and quiet ride for the child and the easy pull handle design ensures comfort for the rider and puller.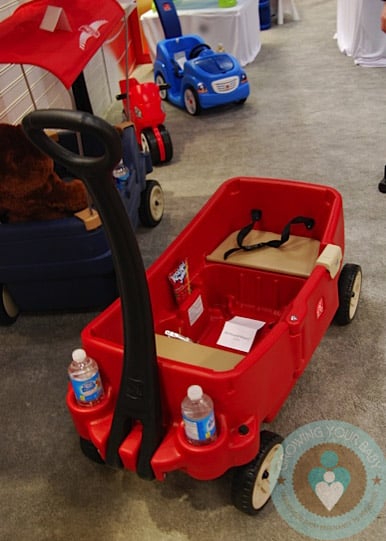 Sand and Water play has always been popular for Step2 so they have 3 new tables for families to choose from this Summer. Big Splash Water Park ($39.99), Splash & Scoop Bay($49.99) and Tropical Island Resort($79.99) all provide 'open water play and interesting features to enrich imagination and expand creativity.'
Also for outdoors, Step2 showed My Clubhouse, a new retro-style playhouse that 'incorporates classic and practical features like a chalkboard, picnic table, secret hiding compartment and peephole.'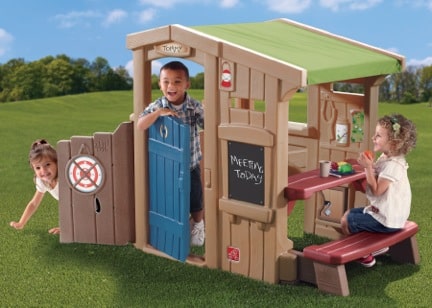 Step2's premier Grand Walk-in Kitchen got a much-needed make-over.
The exterior provides an attached dining area and a realistic electronic grill. It also has two additional electronic features; the stove top and phone. A 104-piece accessory set is included, and the kitchen was designed with plenty of storage to keep the kitchenware and play food organized – whether it be in the "stainless steel" refrigerator, oven, basket cubbies or below the grill.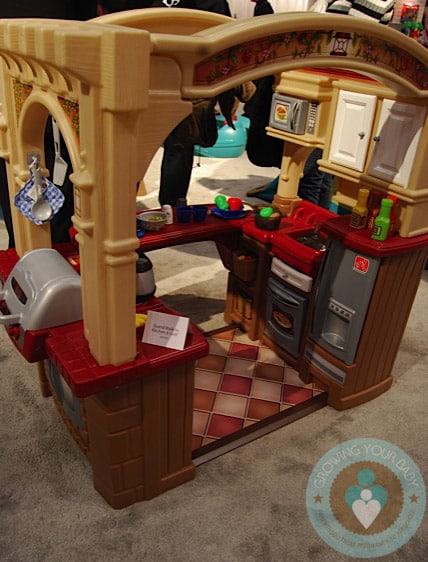 The product that garnered the most buzz was most definitely the Corvette Bed. Unfortunately only a portion of it was on show at the Fair which was a bit disappointing. I did learn, however, that it will grow with your child by using a crib mattress at first and then a twin mattress as your toddler gets bigger extending the life of the bed from 2 to 10.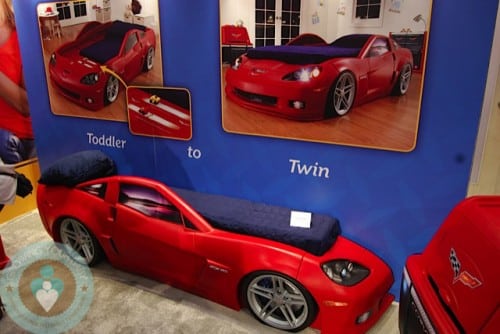 Modeled after the renowned Corvette Z06 this red Step2® racing bed, MSRP $299, features silver rims and realistic details. The upgraded Corvette Bed with LightsTM model, MSRP $329, also comes equipped with working headlights that turn on with a tap. When a toddler mattress is in place, children will enjoy the built-in racetrack in either model.
The bed will also be available with some Corvette-inspired accessories like a Corvette Tool Chest Dresser($109), Corvette Storage Chest($65), Corvette Lift & Toll Toy Box($35). Look for this set to be available at retail during the Summer of 2012.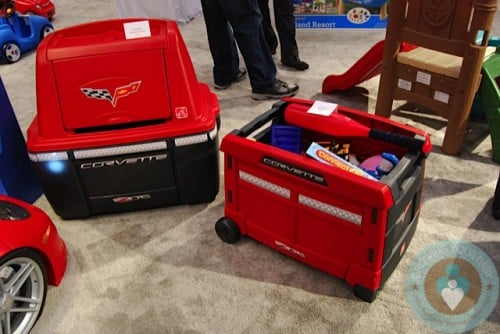 A big soccer ball will be available as more themed storage space. When it hits the stores it will be available in white and pink.
Little Princesses will get their own beauty space complete with a spot for their party shoes and room for all of their beauty accessories!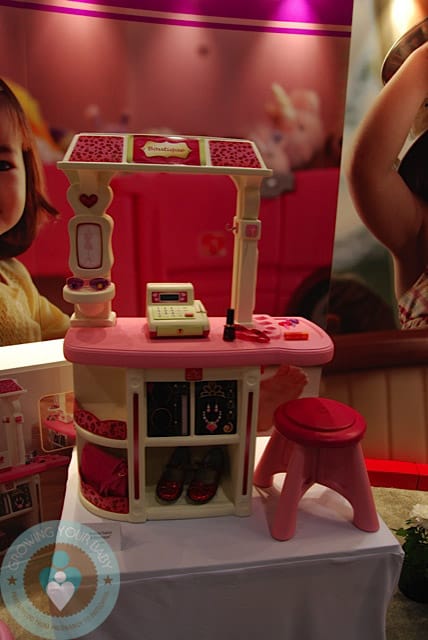 More images appear in our gallery below
---
Related Articles: