One Delta flight landed with one extra passenger last week after a woman on board went into labour halfway through the flight.
Passenger Julia Hansen started documenting the event on TikTok after flight attendants made a request for assistance from any medical professionals on board.
A short time later a newborn's cry could be heard throughout the plane.
"Everybody's kind of turning back to see what's happening, and then there's a lot of shuffling between flight attendants," Siearra Rowlan says. "The speaker goes on and off like they're about to announce something but they don't. Then there's a little baby crying."
Hawaii Pacific Health posted on their website that the mom, Lavinia "Lavi" Mounga, was 29 weeks along and she was unaware she was expecting.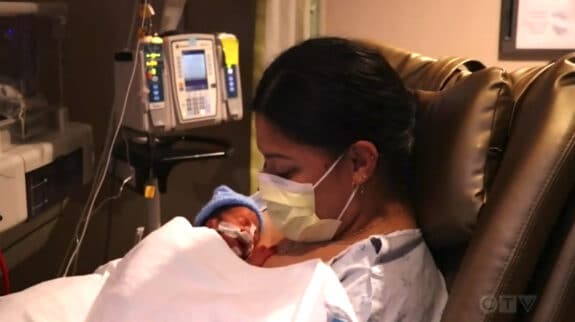 "I just didn't know I was pregnant, and then this guy just came out of nowhere," Mounga said during a video interview with Hawaii Pacific Health.
Thankfully for her(and the baby) Hawaii Pacific Health Family Medicine Physician Dr. Dale Glenn and North Kansas City Hospital NICU Nurses Lani Bamfield, Amanda Beeding, and Mimi Ho were also on board the flight to help with the delivery and provide care for mom and baby until the flight landed in Honolulu.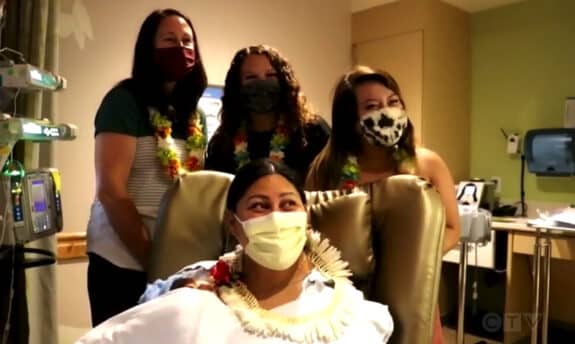 "About halfway through the flight, there was an emergency call, and I've experienced this before and usually they're pretty clear asking if there is a doctor on board," recalls Dr. Glenn. "This call was not like this and it was fairly urgent. I let the flight attendant know that I'm a physician and she said we have a woman having a baby, so I hurried over to see what I could do.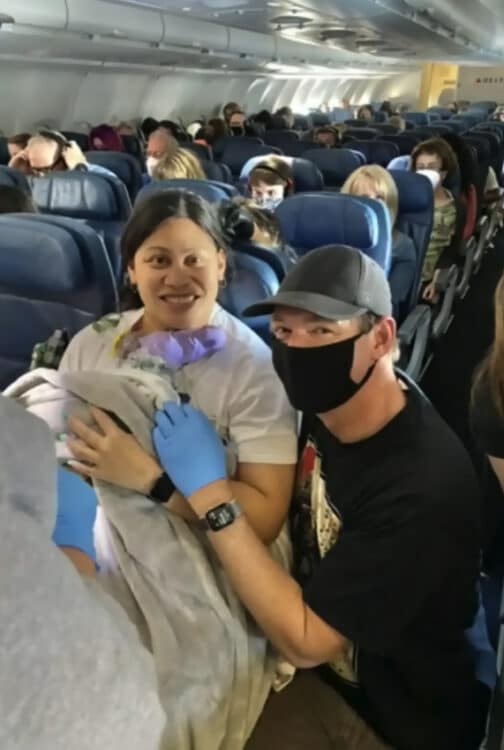 The NICU nurses were a welcome addition to the team; helping mom and baby.
"We were about halfway through the flight and we heard someone call out for medical help," says Lani Bamfield. "I went to see what was going on and see her there holding a baby in her hands, and it's little."
"That definitely means something to us because we work in the NICU," added Ho.
"I don't know how a patient gets so lucky as to have three neonatal intensive care nurses onboard the same flight when she is in emergency labor, but that was the situation we were in," says Dr. Glenn. "The great thing about this was the teamwork. Everybody jumped in together and everyone helped out. Basically, you need somebody to watch the mom too because we have two patients, not just one. So someone's got to help cut the cord, someone's got to help deliver the placenta, we've got to check vital signs on mom. Meanwhile, we're trying to resuscitate baby, make sure baby's breathing, get baby warmed up. That's a lot of work to do, and we're all trying to work in a very small, confined space in an airplane, which is pretty challenging. But the teamwork was great."
Mounga has since been discharged, but baby Raymond will remain in the NICU until he's ready to go home.
Many questioned how a woman so close to delivering was allowed to fly. But Delta doesn't have rules for pregnant travelers. They do note that for women traveling after their eighth month, it's a good idea to check with your doctor to be sure travel is not restricted.