Sometimes, life is stranger than fiction. In a strange twist that you'd expect to see in a movie, two South African mothers recently discovered that they were raising each others biological daughters, after they realized the two girls were switched at birth nearly four years ago. The two women are now at odds after one of the mothers refuses to switch the children back to their biological parents.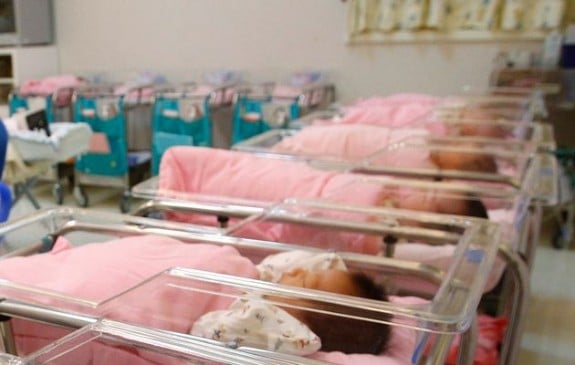 Both women gave birth on the same day in 2010. Henk Strydom, a lawyer for one of the moms says "Nobody suspected anything." He also describes the situation as a "travesty," of which there doesn't seem to be a happy ending in sight. The hospital's grevious errors came to light last year when one of the moms, who is unemployed, tried to sue her ex-partner for help taking care of their daughter. Strydom says that
"The man denied he was the father. A DNA test was done it was found it was not his baby and not her baby. She was devastated. She didn't know what to do."
Both moms eventually met each other, and since last year they have been going to group counseling sessions together, which were arranged by the hospital. As a part of the therapy sessions, they've both met with their biological daughters. Strydom talks about his heartbroken client,
"She said there are resemblances to herself. She conveyed to me that it was traumatic. You can see it's not easy for her. She has to care for a child that is not hers on her own while her child is with someone else."
The mom eventually became rather unhappy with the way things were going and decided to approach the children's court to try and gain custody of her biological daughter back. However, the other mother had refused to give up the child. Strydom is helping the woman fight for her child, free of charge. But, he can also see the other mom's side as well, saying,
"It's a tragedy. She wants to baby back but it seems the other mother is reluctant. It's four years later: you can understand she doesn't want to give up her baby."
Last week, the Pretoria high court put the University of Pretoria's Centre for Child Law in charge of investigating what will be best for both children. Strydom is uncertain what way the courts will go with the case, saying,
"Your guess is as good as mine what the court may decide. It's a travesty. How do you rectify it after four years? The longer you wait, the more traumatic it will be. But whatever happens, someone won't be happy."
He says that as of this moment, neither he or his client have any intention of suing the hospital.
Currently, the Centre for Child Law will be conducting interviews with the parents of the children involved, as well as anyone else who has a "significant relationship" with either of the girls. Both the girls and their moms will have to undergo a "full and thorough" clinical assessment, as well as possibly seeing a psychologist. An attorney with the Centre for Child Law, Karabo Ngidi says, "What's going to happen must be in the best interests of the children. Biology is an important aspect, but not the only one." The families' Zulu ethnicity, customary laws and traditions will be taken into consideration during the decision-making process.
Clinical psychologist Bruce Laing, of Johannesburg talks of the long-term emotional effects of a baby swapping, saying that they can be "profound, terrifying and incredibly traumatising."
---
[ad]