A mother and a baby boy inside her womb were hit by Syrian regime air raids on Sunday. According to the news reports and a video broadcasted from the city of Raqa in northeastern Syria, the mother was immediately operated upon, and the baby resuscitated.
The Sunday raids killed 12 and wounded 23 including the pregnant woman who was hit on her belly. A video that was released later from the city showed the preemie being resuscitated with a respiratory mask. The video also shows his bloodstained head wrapped in gauze.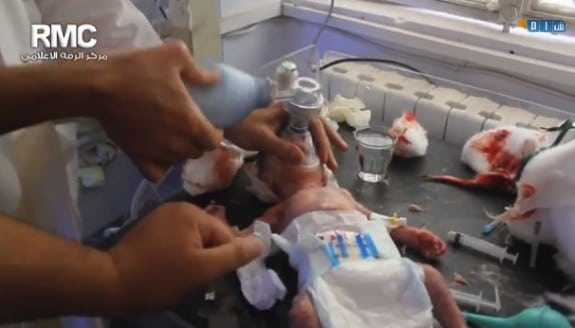 "This baby's mother was wounded in the belly, and we had to remove him. He was hit in the head by shrapnel, and the doctors are trying to save him," said a commentary on the video footage.
The mother was said to be eight months pregnant when she was wounded. In the video, the tiny newborn is shown lying on a table with blood-stained cotton all around him. A person is shown trying to make him breathe using a respiratory mask. His head is resting on bloodstained gauze which is later lifted to show the extent of injuries the tiny baby has suffered on the skull. The baby though is shown responding to the treatment and might have been saved.
The Syrian Observatory for Human Rights monitoring group also reports that the baby and the mother were saved. They added that Raqa city which is held by Islamic State jihadist fighters were raided by the regime on Sunday that killed five children, a woman, and a teacher among others.
Since the IS launched a lightning offensive in neighboring Iraq two months ago, regime forces have been pounding positions of the jihadists who also control territory in eastern and northern Syria.
The group has said to have spread terror all over the city of Raqa imposing their extreme laws and arresting, beheading people.
The more than three-year conflict in Syria has led to the killing of more than 170,000 people and turned more complex with the rise of extremist groups.