Just a couple of days after her son was hospitalized after a pool incident, Tameka Foster has shared a photo of Usher Raymond V cuddling his mom in the hospital.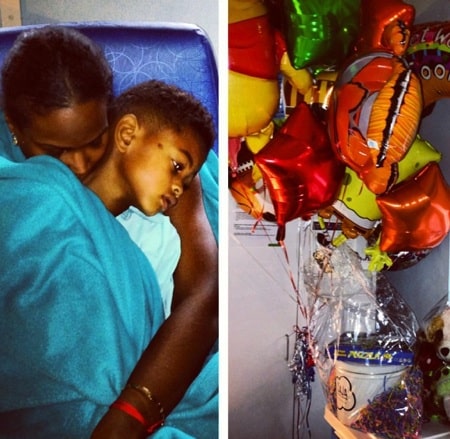 The 5-year-old is reportedly doing well and on the mend after having to be pulled out from his father's pool on Monday.
Along with the photo Tameka wrote,
'My favorite 5-year-old. What a blessing! I have always loved and appreciated my sons but tragedies and close calls make this even more evident. '
After the incident, Tameka re-opened the custody arrangement she has with Usher.
According to papers filed in the Superior Court of Fulton County, Georgia, she is asking for temporary custody while she waits for a final hearing on being awarded permanent physical custody.
Last August Usher was awarded primary physical custody of their sons, Usher Raymond V, 5, and Naviyd Ely Raymond, 4.
Tameka claims that the children would be safer with her because they are often left with staff when he's out of town 85% of the time.
She also notes that the singer Usher had fired every caregiver who was on staff when he was awarded primary custody and the replacements are not as good as they should be.
When reached for comment, Usher's spokesperson issued the following statement on behalf of the singer:
"I am blessed and fortunate to say that my son Usher V is doing well and is recovering. I am overwhelmed by the outpouring of prayers, love and support for my family's well-being. I would like to thank my Aunt Rena as well as the doctors and nurses who are working with us around the clock. I would especially like to thank the two men who saved my son's life, Eugene Stachurski and Ben Crews. They are true heroes and I am deeply grateful to them."
The pair are set to meet with the judge tomorrow at 2pm.
---