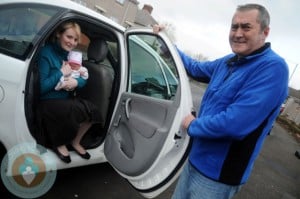 If you've ever watched that taxi driver show, the one where they show all of the crazy things that happen in the back of cabs, you would probably feel it's safe to say that cab driver Brian Croft has seen plenty of interesting events from the front of his cab. But Brian was in for the shock of his life when he picked up Catherine Griffiths and Stuart Luckett.
The couple hopped Brian's cab to make the fifteen minute trip from their home to the Singleton Hospital in South Wales. Catherine was in labor.
"They say that when the contractions are about two minutes apart and last for a really long time, the baby is on its way. But with me, they were only lasting a few seconds. I thought I had a lot longer than I did have," Catherine stated.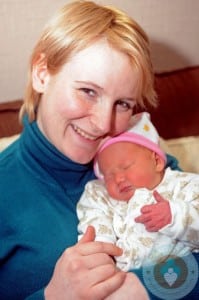 Brian had just returned to cab driving last May after taking a 20-year break from the profession.
"When Catherine got in, the first thing I said to her was, 'I hope your waters don't break,'" Brian said. "We had only been driving a few minutes when the waters broke and I started to panic. I didn't dare put my foot down and when I looked back, she was standing up. They phoned the hospital and I kept going."
Little Sophia Luckett wasn't going to wait.
"The whole thing was over in just three minutes and Catherine delivered the baby herself," Stuart said. "It happened so quickly, I just couldn't believe it.

"To go from my waters breaking to my daughter being born three minutes later was quite a shock," Catherine said. "My partner was telling me not to push and to hold off. But by then it was a bit too late for that. Her head was out and I had to finish the job."

"All I heard was: 'The baby is out,'" stated Brian. "When we got to the hospital I got out and opened the door and there she was, holding the baby in her arms. From the time I picked them up to the time we got to the hospital, just 15 minutes passed and in that time, she had the baby. It was amazing."
Brian has already visited Stuart, Catherine and little Sophia, who was born at 7 pounds, 8 ounces. Sophia's big sister, 10-month-old Jasmine, who was also a quick delivery (2 hours) has also visited.
Related Articles:
---
[ad]