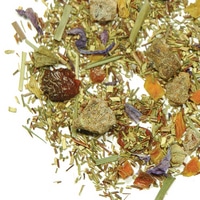 I love tea and it has started to wear off on my youngest son.  When he sees me drinking tea, he wants some too.  The only problem is that I like white and green teas and both have caffeine in them.
While at the tea shop yesterday I asked the girl if any other their varieties were safe for kids and she suggested Rooibos.

This tea has been popular in Southern Africa for generations and is now consumed by many around the world. Once I started to look up the benefits I wondered why I hadn't been drinking more myself.
Its high level of antioxidants, lack of caffeine, and its low tannin levels make it a perfect beverage for those of all ages and expectant moms. Rooibos has also been known to assist with nervous tension, allergies and digestive problems.
Various studies have shown the many health problems that can be helped by drinking this tea on a regular basis:
Can be used to treat hay fever, asthma and eczema
Placed directly on the skin, it can slow the aging process
Boosts the immune system
Eases irritability, headaches, nervous tension and insomnia
Acts as an anti-spasmodic agent, to relieve stomach cramps and colic in infants
Contains no oxalic acid, so people who are prone to kidney stones can safely consume it
To try this out, I chose a green rooibos that had pear bits, sultana raisins, dates, carrots, mallow flowers and lemongrass so it was naturally a little sweet. The bonus to this is that is smells really good while you're brewing it so my son was drawn to it immediately. The actual taste was more subtle than the scent, but he still liked.
In addition, amazitea has a grape tea and Wai Lana, a raspberry tea stick that both can be substituted for box juices or soft juices.  To sweeten your brewed Rooibos, you can use stevia.

Like with anything new, please check with your physician or homeopathic doctor for appropriate usage for little ones.
Related Articles:
---