Medical advancements have turned a heartbreaking situation into a triumph and have given the phrase, 'chill baby,' a whole new meaning, in the process.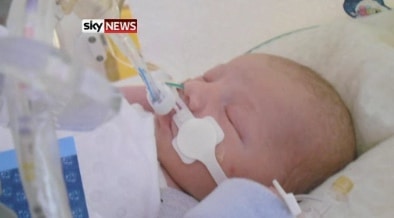 Little Ella Claxton, of Peterborough, England, did not enter the world gently.  Her mother Rachel sustained a ruptured placenta which restricted the amount of oxygen reaching the baby.
At birth, Ella had no heartbeat and was in need of resuscitation.  She was on life support for 20 minutes before she was able to breathe on her own.  As a result, she suffered hypoxic ischemic encephalopathy, a condition that frequently results in brain injury and even death.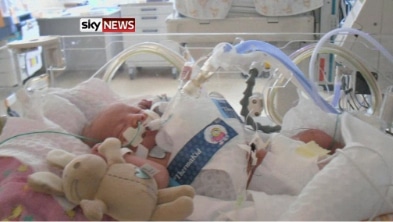 Fortunately for Ella, just days before her birth, the U.K. approved a new treatment for babies, born starved of oxygen.  Doctors promptly wrapped the little girl in a fluid filled blanket which lowered her body temperature from the normal 37°C to a hypothermic 33.5°C.
It is theorised that lowering body temperature, after brain trauma, reduces swelling and limits damage.  It was discovered only recently that it takes 24 to 48 hours for brain cells to die, so when cooling treatments are implemented early, they can limit or stop brain damage.
According to Dr. Topun Austin, the neonatologist who consulted on Ella's case,
"Lack of oxygen is a trigger but it does not happen immediately.  The damage can be prevented."
Brain injuries, resulting from oxygen starvation at birth, vary in severity.  Some are acute enough to be fatal while others result in degrees of disability.
"These are very sick babies," Austin said.  "The key is to identify and treat them as early as possible – and start cooling them as soon as possible.  It's a relatively simple thing to do and should be done routinely."
Ella is one of the lucky ones.  She is nine-months-old now and is developing normally, with no signs of brain injury.  The treatment has been adopted into wide use in the U.K. but is not available in all hospitals.  Ella, and children like her, will be followed closely in the coming years as doctors assess the effectiveness of the treatment, over time.
"It's not a perfect treatment," says Professor Donald Peebles, spokesperson for the Royal College of Obstetricians and Gynaecologists and consulting obstetrician at University College London Hospital.  "But, as long as you get in there quickly research shows that one in eight given this cooling treatment will not have any brain damage."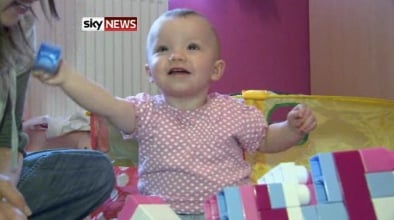 For her part, Ella's mom Rachel is glad she said yes to the treatment and is thankful for the outcome.  She says, "I put every faith in the doctors that day and I can never thank them enough." – Jen R, Staff Writer
Related Articles:
---
[ad]