When Julie Siakpere revealed to her class that she was expecting, it sparked a gender and baby name conversation with her students.  But what she learned pretty quickly was that when you ask a Pre-K class to suggest a name for your baby, their ideas are going to be very creative!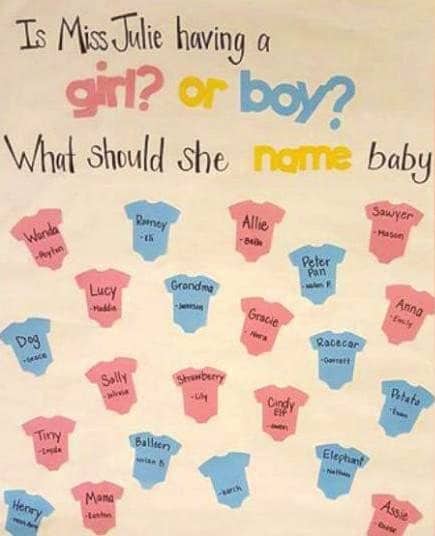 Unaware of the project, she was presented the list titled "Is Miss Julie having a girl or boy? What should she name baby?" by her co-teacher Amy.
The list of names came from 21 students and Amy:
Girls
Wanda
Allie
Sawyer
Lucy
Gracie
Anna
Tiny
Sally
Strawberry
Cindy Elf
Mama
Assie
Boys
Rooney
Dog
Grandma
Peter Pan
Race car
Potato
Henry
Balloon
Elephant
"I thought it was hilarious and apparently everybody else did too," said her wife Abby. "I'm excited that this has gotten as big as it is."
The list, which was posted by Julie and her cousin onto Reddit racked up over 1.3 million views in just one day.
"I'm kid of speechless and baffled," the mom-to-be said. "I never though in a million years I would be a part of something going viral."
The "Name Miss Julie's baby" project is now on display outside of Julie's classroom for her students' parents to see.
---
[ad]