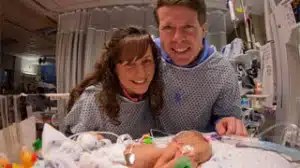 Michelle Duggar is well known for her extra large family of 19 children. Though her youngest, Josie Duggar, had serious health problems and was born premature, the mom says she would welcome a another baby if it happened.
The Duggars are stars of the TLC reality show "19 Kids and Counting," based on their ever growing family. With a super sized family of 19 children there was been some questions whether or not they would try for a 20th baby. This especially after the youngest, Josie, was born very premature.
"When we look at Josie — we were just talking about it this morning — and I thought, even knowing that we went through the challenge that we did, we would do it again,"
During Michelle's last pregnancy she developed a dangerous case of preeclampsia that risked her and Josie's life. Doctors had to induce Michelle a full 3.5 months early in order to save the pair. Josie Duggar came into the world weighing only 1 pound, 6 ounces. After a series of medical complications, such as a perforated bowel(NEC), she was released home 7 months after her birth.
"The precious life that we see here is not a coincidence," she added. "I just know that it is a miracle. I don't take that for granted. I know that God is the one who gives life, and I'm just so grateful and thankful. We would welcome another if He saw fit, but we'll wait and see."
Despite the health problems that arose during Michelle's pregnancy, she says she is back in good health and stable. The family is back in their home and ready to start the new season of their reality show.
"I definitely feel much better than I did seven and a half months ago with preeclampsia. My blood pressure is great now, and I feel good. I'm really thankful; just so grateful to have Josie," she said.
Michelle's husband, Jim Bob Duggar, says that despite Josie's concerns she is maturing well and should catch up with other children developmentally within two years.
"They say by the time she's 2 years old, she should catch up with someone developmentally who's 2 years old. It's amazing how well she's doing. We're just so thankful to God that she is thriving and doing well,"
Related Posts:
---