Here she is! Just 10 hours after welcoming their baby girl the Duke and Duchess of Cambridge debuted her on the steps of St. Mary's hospital before heading home.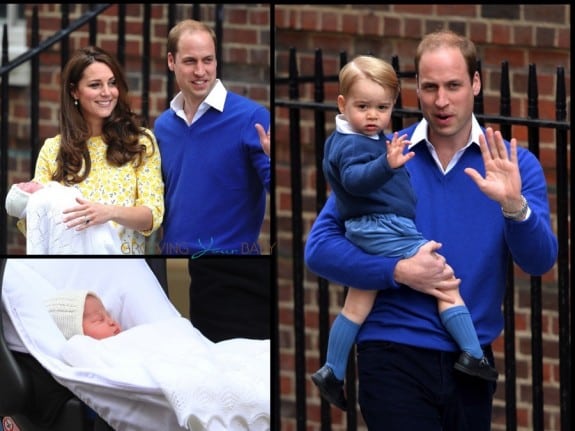 Kate was pretty in a yellow Jenny Packham floral dress as she proudly showed off her baby girl.
Just after 4pm Prince George arrived at the hospital to meet his baby sister.  William was photographed carrying the 21-month-old from the car into the hospital.   The outing was first time he has been publicly seen out in the UK since his birth in 2013.  A little unsure about the crowds, he gave a tiny wave before he was whisked into the hospital.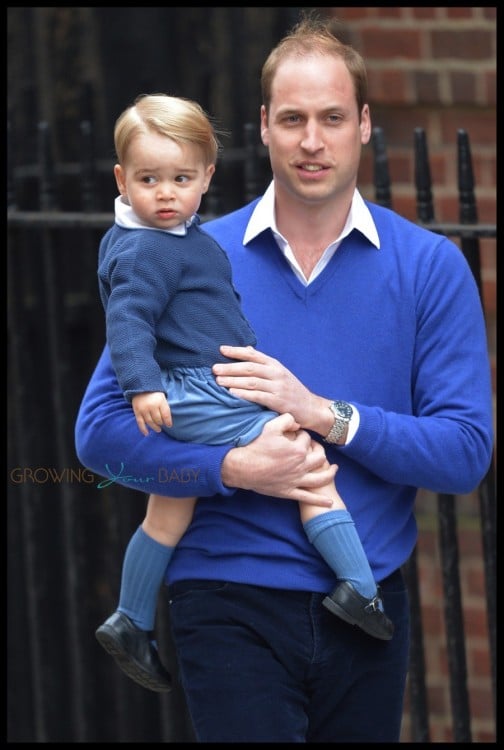 Kate and William stepped out onto the step on the Lido Wing of St. Mary's Hospital at 6:11pm to debut their baby girl to the world.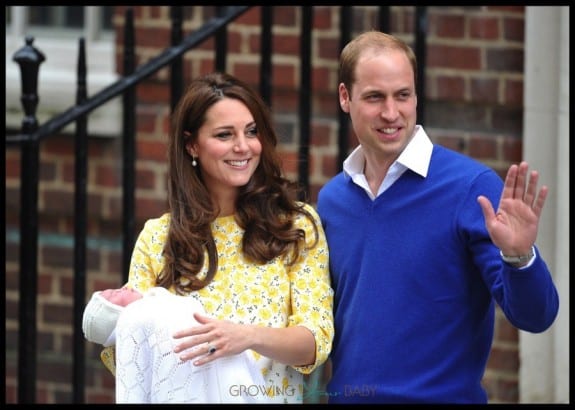 Five minutes later they re-emerged from the hospital with the newborn in her car seat ready to go home.   An excited Kate could be seen trying to sneak a peek of her little princess, who slept peacefully through the frenzy.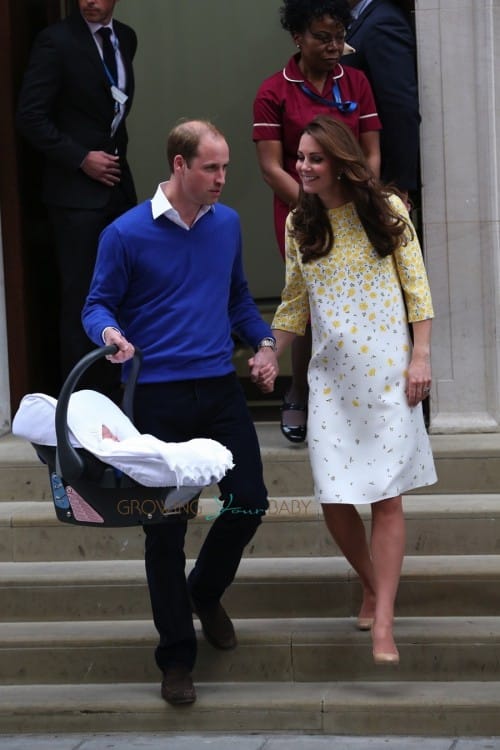 As we reported earlier today, William and Kate welcomed their second child this morning at 8:34am, just two and a half hours after they arrived at the hospital.
The baby weighed 8lbs 3ozs.
Unlike last time, no family was photographed visiting the hospital.  William's father Charles, is currently in Australia, while Carole and Michael Middleton were reportedly watching Prince George while Kate was in labour.
Queen Elizabeth II and Prince Andrew attended The Royal Lancers amalgamation parade at Richmond Castle in North Yorkshire where she wore pink for the occasion to celebrate the baby's arrival.
The new baby is the Queen's fifth great-grandchild, of which four are girls. She is 4th in line for the throne.  Her arrival pushes Prince Harry, down to fifth in the order of succession.
Congratulations to the couple on the safe arrival and we can't wait to hear what name they have chosen for her!
{PACIFIC COAST NEWS, WENN}
---
[ad]