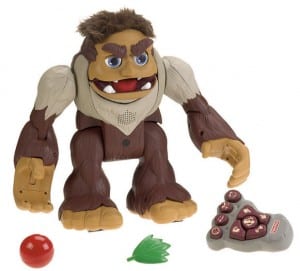 Bigfoot the Monster has been released by Fisher Price's Imaginext line and will be stomping into a store near you! This remote-controlled robotic monster is very engaging and so easy to use that preschoolers will look like professional Bigfoot tamers.
Using the footprint-shaped remote control, young children will quickly learn Bigfoot's commands through the intuitive icons located on the remotes large buttons. Bigfoot has seven feature buttons and can walk forward and backwards, sleep, throw a ball, exercise, and even do forward somersaults and backwards rolls! Press the happy button to hear him laugh, press the angry button to hear him roar and watch him pound his fists or raise his arms above his head and shake his fists.  The sleep button makes him go to sleep and features fun sounds like snoring! Don't forget the fun button for a variety of sounds and words! The exercise button makes Bigfoot work out. Watch him pretend to "lift weights" as he makes fun sound effects. Press the ball button and hear him say things like "play" and watch him throw the ball.
Bigfoot the Monster also features two interactive buttons on his body: belly and mouth. Press the button on his belly and hear him laugh and the button in his mouth makes him chew and burp! All buttons both on Bigfoot and on the remote control feature different sounds/speech if they are held down.
The toy package includes Bigfoot The Monster, remote control, ball, leaf, and rechargeable battery and retails for $99.99.  In our opinion Bigfoot The Monster is super fun and interactive making it a must have for your toy box.
Fisher-Price's Bigfoot character will also make special character appearances and brunches at national zoo events this year, including San Diego Zoo, Zoo Atlanta, Brookfield Zoo, Tampa's Lowery Park Zoo, Toledo Zoo and San Francisco Zoo. Big Foot Sightings can be tracked here.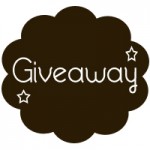 GIVEAWAY: Fisher Price is offering one Growing Your Baby reader the opportunity to win a Bigfoot The Monster.
Congratultions to our Winner: Crystal F
---
[ad]