Tiny E'Layah Faith Pegues has surprised many with her fighting spirit. Born 14 weeks early on September 23rd, she weighed a mere 10 ounces and measured just 10 inches long.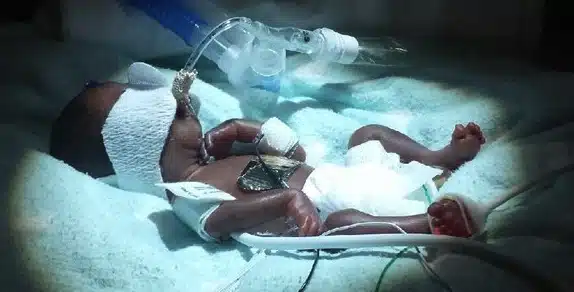 Her chances of survival were slim when she first arrived, but she has shown everyone that she is one tough little girl, and in the coming weeks her family will start a new chapter when she is finally released home.
The smallest surviving premature baby ever born at The Carolinas Medical Center in Charlotte, N.C., and "one of the world's smallest babies ever born," her neonatologist, Dr. Andrew Herman, told ABC News today that E'Layah fit "head-to-toe" in his palm when she was born.
"To be honest, we were unsure if E'Layah was going to make it," Dr. Herman said, "but the doctor who delivered her could see she had a fighting chance, and her parents never lost faith it was possible she'd survive."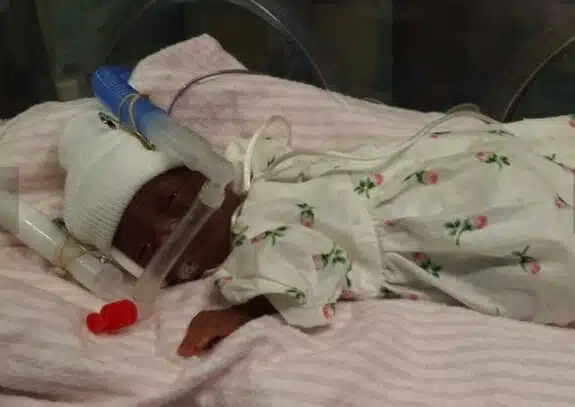 Today, E'Layah weighs 3 pounds, 10.7ozs, and she is expected to go home within a week or two.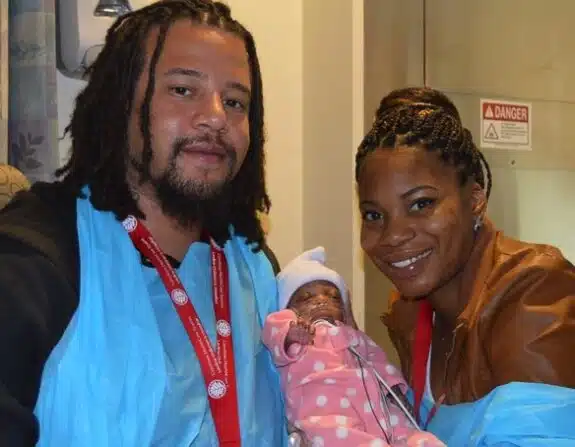 Over the past three months, she has overcome "a series of hurdles." Like many extremely preterm babies, she has relied on the ventilator for breathing, needed several blood transfusions and had numerous complications with her undeveloped organs. Despite this, E'Layah is expected to "live, thrive, play and be happy as a healthy normal kid," Dr. Herman said.
E'Layah's mom, Megan Smith, had a difficult pregnancy. Early on she had morning sickness, high blood pressure, and was diagnosed with pre-eclampsia. When she was about five months along, her fiance Eric Pegues, said he rushed her to the hospital twice when he thought she was having strokes.
In August, Megan was referred to CMC after it was revealed that the baby was not growing normally, but by Sept. 21, doctors discovered there was too little fluid in the placenta. Two days later, doctors were forced to deliver the baby by C-Section when Megan noticed the baby stopped moving.
The new mom told ABC News, that she and Eric gave E'Layah the middle name "Faith" because when they were told to prepare for the worse, they decided they "would always have faith" and that they were "never going to give up on her."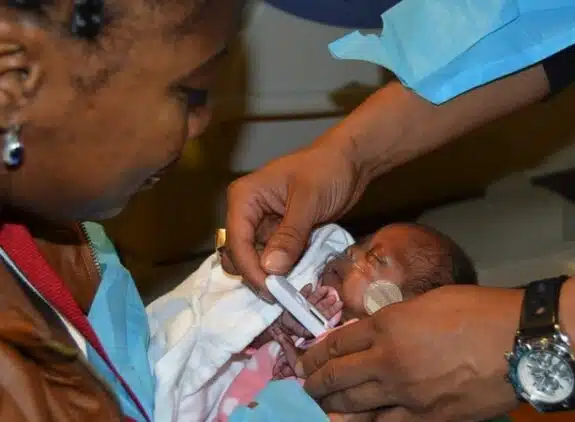 Even though their time in the NICU has 'been a roller-coaster", Megan said that "every precious moment spent with our daughter has made everything worth it."
"One day, I was holding her, and my fiance called me while I was in school and said let me speak to E'Layah," Smith said. "I put the phone to her ear, and her eyes just opened up, and she started smiling. He also always sings to her and tell her she's Daddy's Little Girl or Daddy's Little Angel, and I just love that — our precious moments with her."
---