If you look around your house you could probably find ten or more gadgets that take lithium batteries.  From the musical greeting card sitting on the table, to the remote control next to the TV, "button batteries" as they are commonly referred to, are in thousands of products used in and around the home. Young children and senior adults are unintentionally swallowing the cell batteries and in some cases, the consequences are immediate and devastating.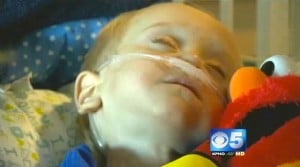 Emmett Rauch, 2, is recovering at Phoenix Children's hospital after swallowing one of these tiny batteries.
Karla, the toddler's mom said no one saw him swallow the lithium battery from the remote control.
Initially they thought he had a cold until Xrays revealed the battery in his throat. By the time they caught it, however, the damage had already been done.
"Batteries start burning in the esophagus within two hours and it was in him we think about three days," said Karla Rauch, Emmett's mom.
Emmett has had 18 surgeries in the past year.
"We have had two similar cases in the past couple weeks, and it's becoming more and more frequent," said Michelle Chacon, one of Emmett's nurses at PCH.
She says that the small, round lithium batteries present a greater danger because they don't have as much casing as a AA battery.
Michelle has helped Emmett's family start a non-profit to raise awareness about the dangers that batteries can pose to kids if swallowed.
"You talk about childproofing your home and covering your outlets, and this needs to be a part of that," said Chacon.

"I knew that they needed financial help to get their non-profit organization going," said Joan Arrington, Emmett's great-grandmother.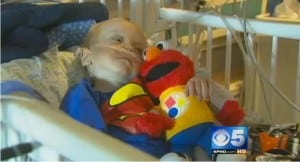 Joan contacted KPHO 5 about her great grandson, in hopes that they would feature his story for their 'Pay It Forward' program.  When it was chosen she was given $500 to donate to the help create awareness about this important safety issue.
For now Emmett snuggles in his crib in the hospital with his stuffed Elmo.  He has already done enough fighting for a lifetime.  He was born three months early, so he already beat the odds once.
We hope that the toddler is able to be released home soon.
The CPSC recommends the following steps to prevent unintentional battery ingestion:
Discard button batteries carefully.
Do not allow children to play with button batteries, and keep button batteries out of your child's reach.
Caution hearing aid users to keep hearing aids and batteries out of the reach of children.
Never put button batteries in your mouth for any reason as they are easily swallowed accidentally.
Always check medications before ingesting them. Adults have swallowed button batteries mistaken for pills or tablets.
Keep remotes and other electronics out of your child's reach if the battery compartments do not have a screw to secure them. Use tape to help secure the battery compartment.
If a button battery is ingested, immediately seek medical attention. The National Battery Ingestion Hotline is available anytime at (202) 625-3333 (call collect if necessary), or call your poison center at (800) 222-1222.
Related Articles:
---