A Hamilton baby is lucky to be alive after he was left alone in a house that went up in flames.
When Ella Shepherd called 911 to report the house fire, she had no idea she'd be saving a baby's life.
"The firefighters are the heroes. I just did what any human being would do," she said told TheSpec.com
Ella was on her was to work just before noon when she noticed the thick smell of smoke coming from a neighbouring house.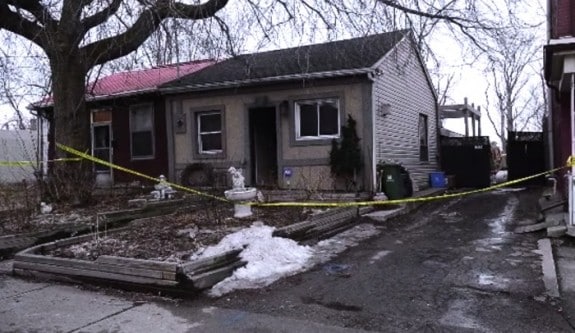 "I just saw a bit of smoke coming out from underneath the eavestrough and I immediately called 911," she said.
She knocked on the door to see if anyone was home but there was no response.
But when fire crews arrived they found a 15-month-old baby in the front bedroom alone.
The baby was taken to McMaster Children's Hospital for smoke inhalation.  A neighbour said the baby was completely black with soot when firefighters removed him from the house.
The child's mother returned home just after 4 p.m., where she told a reporter the toddler was recovering in hospital.
"My son is OK, he's fine," she said.
A friend of the family said the child was in the care of a neighbour at the time of the fire.
"I guess she stepped out and then we got a phone call, 'The house is on fire.' And we were literally just up the street," she said. "I guess the babysitter called and said the house was on fire."
The Hamilton Spectator later spoke to a next-door neighbour, who confirmed she was the babysitter they were referring to.
"She said she was going to the store and asked me 'Can you keep an eye on the house?'" the woman said — but insists she was not told the baby was left at home.
The woman would not give her name because she doesn't want to be "any part of it."
The Hamilton Police's Child Abuse Branch has taken over the investigation and are working with the Children's Aid Society.
---
[ad]