The Stackhouse by Toideloi is a wonderful doll house with a modular design, made for stacking and rearranging.  The simple design and the two available roofs, slanted and castle style, make the Toideloi Stackhouse perfect for both boys and girls.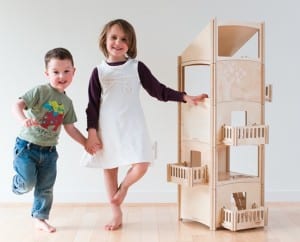 The Stackhouse is designed by Dutch designer Martijn van Tilburg and proudly made in the US.  Made entirely from sustainably grown Eastern European birch plywood that slides together, there are no screws or nails required to assemble the houses.  This makes creating different configurations a breeze!
Each room section is large at 14" by 14" and 9.5" high, with wide side openings, perfect for little hands.  The simple sleek style of house lends itself to just about anything a little one can imagine.  From a Swiss chalet, to medieval castle or New York skyscraper…with addition of rooms, and the changing of the roof, the Toideloi Stackhouse can be anything!
Rooms and roofs can be bought separately, or a complete house can be bought (and of course rearranged at home!).  A great present as additional rooms can be given for subsequent birthdays.  A wonderful home for an urban or farm family, knights, kings and queens, or perhaps a family of animals ~ let your child's imagination run wild!
---
Related Articles:
---
[ad]