While many gravitate to diaper bag tote, the backpack is really the holy grail for busy parents. It allows you to carry everything you need for a day out while remaining hands-free to hold little hands or pushing a stroller.
My boys are no longer in a stroller and don't wear diapers but I still love carrying a diaper bag for the organization and comfort it provides on a long day out.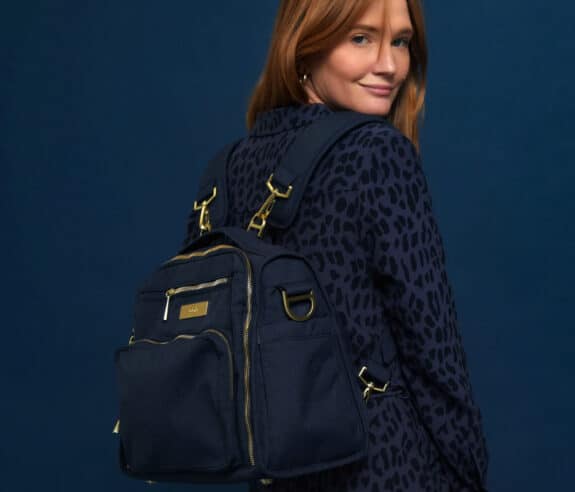 Here are my top 10 Favorite Backpack Diaper Bags!
JuJuBe B.F.F. Diaper Bag($195)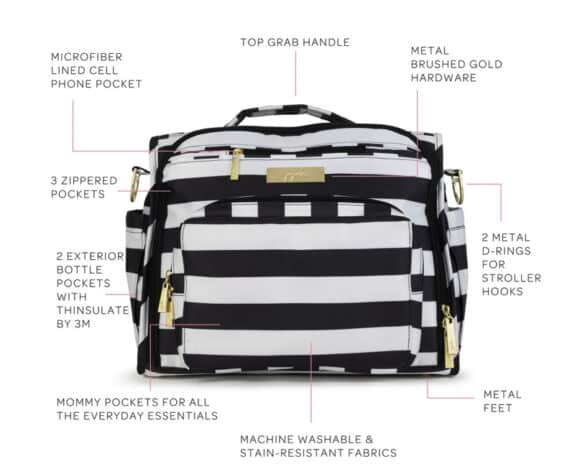 I love this bag so much I have it in two prints – but it's currently available in 15+ prints. This back is shaped almost like a sideways backpack. I assure you the design is perfect for organizing everything you need and being able to grab it quickly. The front panel opens up completely to reveal 4 gusseted pockets and 3 zippered pockets in main compartment. The sides feature 2 bottle pockets with Thinsulate by 3M with a Mommy pocket with key fob and microfiber glasses pocket at the front.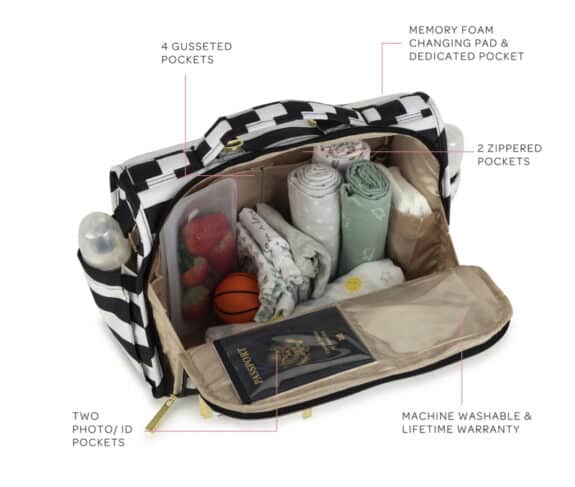 Parents can choose to carry it on their back, over the shoulder, or use the two D rings to attach it to your stroller's handlebars.
For changes on the go, a memory foam change pad is included and tucked into the back pocket.
SkipHop Evermore 6-in-1 Diaper Backpack Set($145)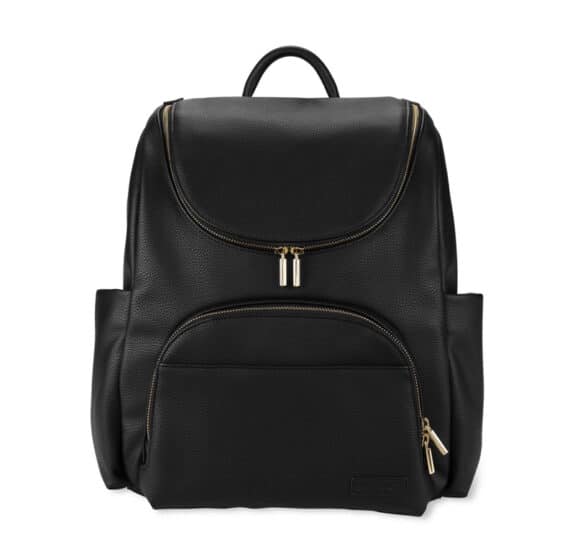 Designed to check off all the boxes on your dream bag wish list, Skiphop combined ultimate function with a supple pebbled vegan leather for a luxe look that pivots seamlessly into life beyond baby. Roomy enough to hold all the essentials. It features ten pockets, plus a Wristlet pouch, pacifier pocket, sanitizer holder (sanitizer not included), changing pad & removable stroller straps.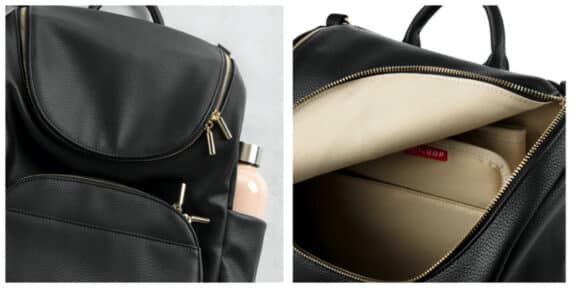 Petunia Pickle Bottom Boxy Backpack($249)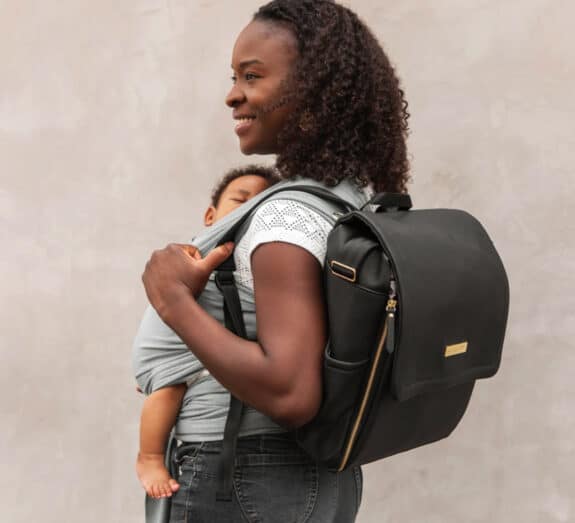 Petunia Pickle Bottom's signature backpack is still our favorite. They have quite a few in their collection but we love the storage and design of this style.
Designed with an easy-to-clean and water-resistant faux leatherette fabric, this bag has a very spacious interior with 5 pockets (2 to stow bottles) and a key clip, a wide zip-open top for quick access, and magnetic front flap closure.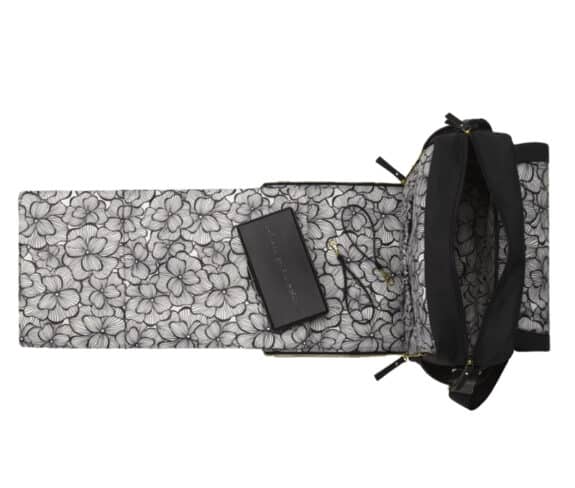 Petunia Pickle Bottom includes a wipes case and a zip-out diaper changing station for your baby with a removable changing pad.
Tactical Baby Gear Modular(MOD) Diaper Bag Backpack($150)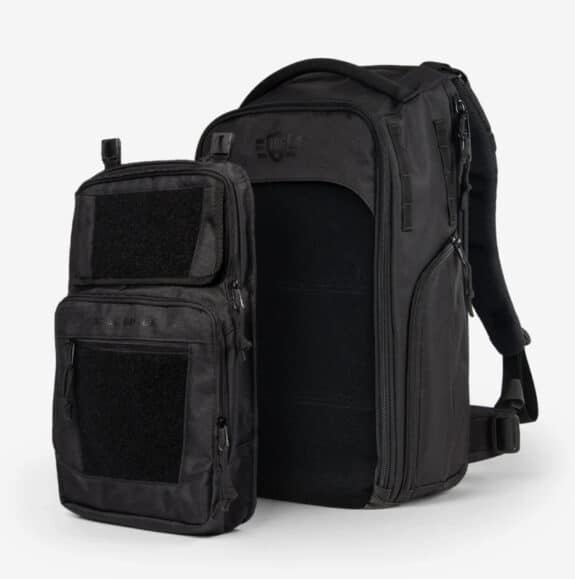 This multi-functional diaper bag was designed with a rugged, water-resistant 600D Polyester material to ensure it lasts through your adventures.
The modular system allows parents to customize the front section with a panel that works with their lifestyle. A velcro panel gives you the option to swap out the storage options for the front of the bag. One baby core panel of your choice is included in the price of the bag.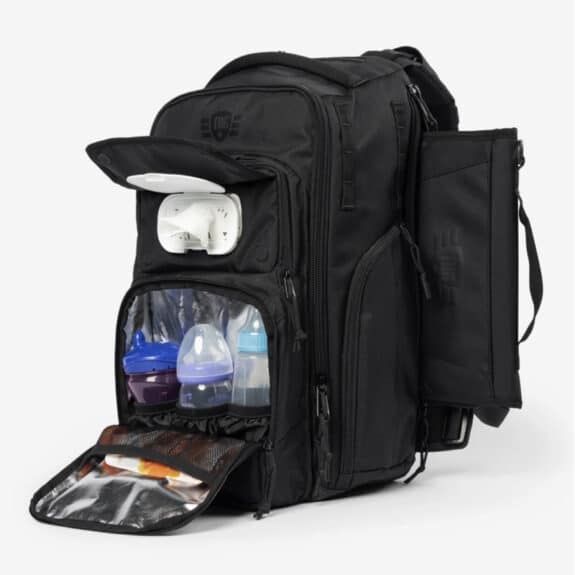 Inside they have added three-tier divided back pockets and front & side mesh pockets for optimal organization. On the side, there is webbing for attachments, an expansion side bottle pocket, and an oversized stretch side pocket
Also included in a diaper change pad, removable Sternum Strap, removable Waist Support Strap, removable DADDY & MOMMY patches for the front of the bag.
JuJuBe Million Pockets Deluxe Backpack($180)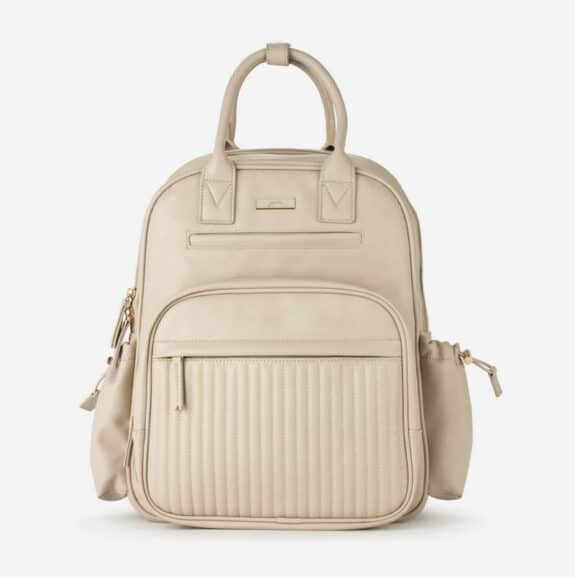 Introduced in 2021, this bag features superior organization. Designed with Vegan leather and 25 pockets in total, there is literally a spot for everything!
There are 8 exterior pockets including a mommy pocket, two bottle pockets, changing pad pocket, plus an easy-access pocket up top to stash your phone and a sleek hidden pocket in front.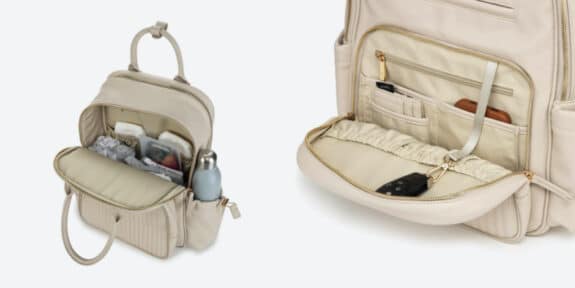 Inside there is a padded pocket that can safely store a 15-inch laptop plus 17 interior pockets include 2 bottle pockets, 3 zippered security pockets, 4 mesh pockets, 4 expandable elastic pockets, 2 gusseted pockets, and a pocket to store your Coffee Break credit card holder(sold separately).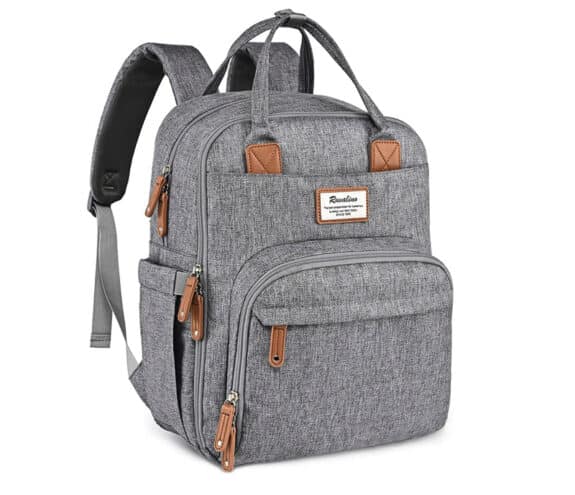 This best seller is a steal at $40. Perfect for both mom and dad, this modern backpack has all the must-have features of a classic diaper bag including 2 big compartments and 16 pockets for the ultimate organization, easy-grab handles, mommy pocket for your belongings, as well as custom hardware D-rings for stroller (Stroller hooks excluded).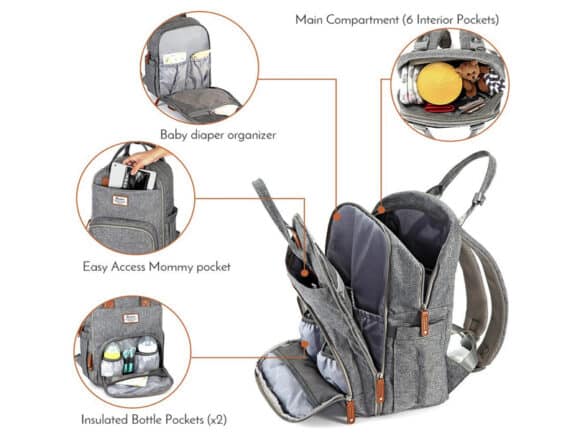 Comes with an easy wipe clean, waterproof changing pad (23l x 15w inches)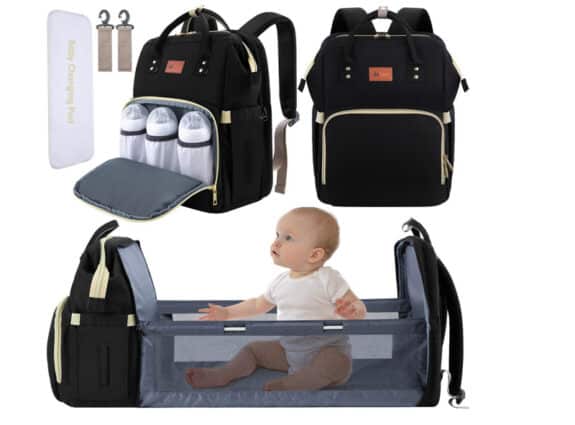 This diaper bag backpack features a very cool option that we haven't seen on conventional diaper bags in the past – a foldable 'crib'. Easy to assemble, with the 2 foldable rods this feature gives parents a spacious, clean and comfortable area for babies to have a nap or change diapers.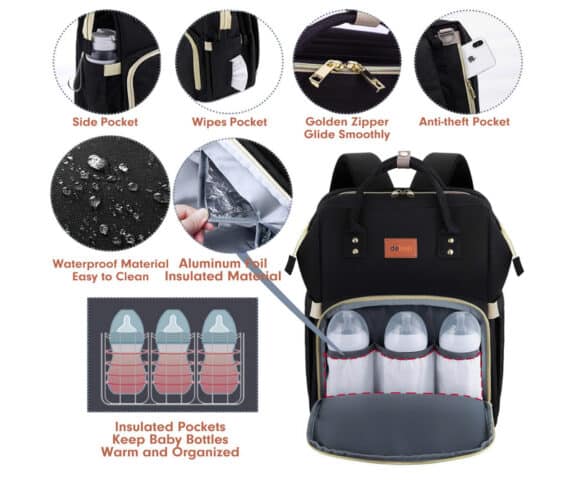 The bag itself was designed with a waterproof and tear-resistant Oxford. Inside it has 13 different usage pockets. 4 elastic pockets can be used to hold diapers, bibs, and other baby toiletries; 1 waterproof zipper pocket can keep baby's wet, and the rest zipper pocket can store various items. Three foil insulation pockets can have 3 baby bottles in and keep them warm. 2 Side pockets are for bottles, wipes, or tissues. On the back of the diaper bag, the is an anti-theft pocket for your phone, keys, card, etc.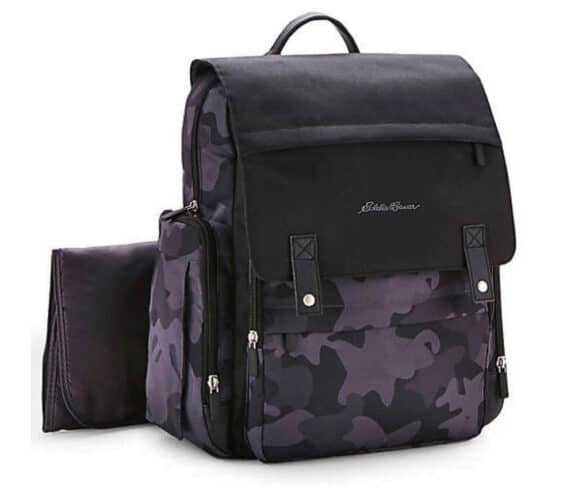 The Eddie Bauer Places & Spaces Compass Backpack Diaper Bag is stylishly functional with a spacious main compartment, 11 pockets, and adjustable shoulder straps.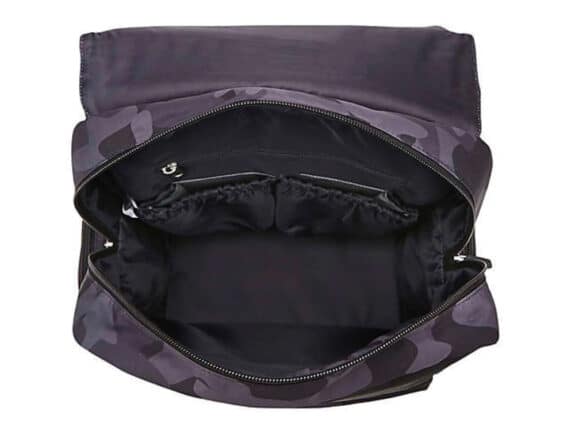 It also includes a removable fold-up changing pad, stroller loops, adjustable padded shoulder straps, and a top carry handle.
Lui Bebe Monaco Faux Leather Diaper Backpack($159)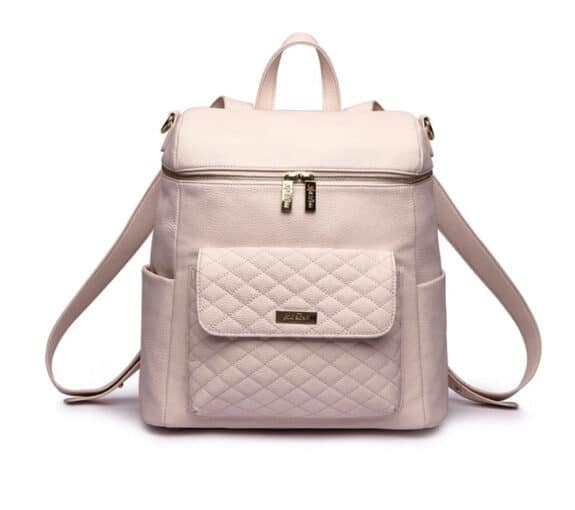 The Monaco Diaper Bag is designed with premium faux vegan leather and features a distinctive quilted texture front pouch with classic gold enameling. The stylish bag boasts a smooth design of supreme luxury and cultured finesse.
Busy parents will love that it comes with nine pockets, inclusive of a large, spacious central space for bulk items, plus additional compartments for extra storage.
A magnetic flap front pouch with zippered pocket gives you a place to store your items quickly and securely.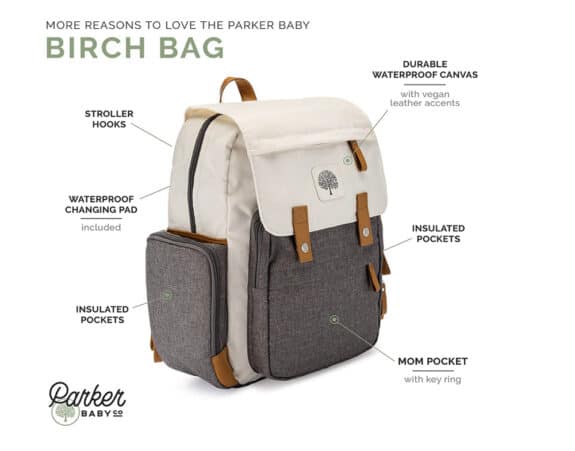 This diaper backpack was designed to be functional, stylish, and neutral for mom or dad.
The interior of this backpack diaper bag includes a padded laptop pocket, mesh pocket organizers and other organization essentials. Maintain the temperature of your baby bottles or baby food in the insulated side pockets, never lose your keys and wallet in the mommy pocket, and quickly grab a diaper out of the mesh diaper organizer.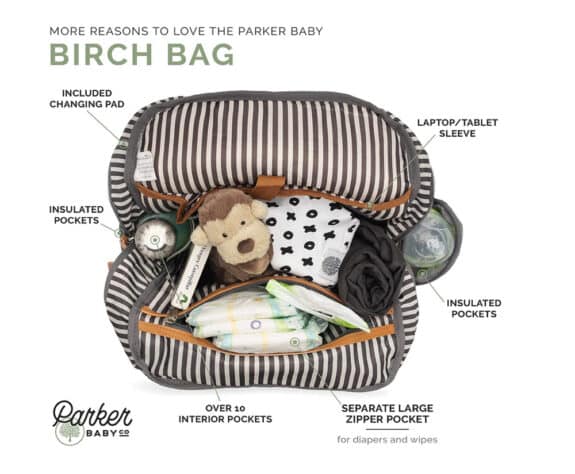 Parker Baby has included strong stroller straps and a wipe-clean waterproof changing pad.