Whether you're a condo dweller or someone who just wants one stroller from birth to pre-school, a compact travel is a must have.  They fold down easily to be stored away in tight spots, can be used for your child's entire life and are perfect for when you need a stroller for a vacation.
These days the only reason to really have a full size stroller is if it has the capability to convert into a double for a second child.  Brands have done a really great job of loading up their smaller strollers with many of the same features while keeping the price down and package small.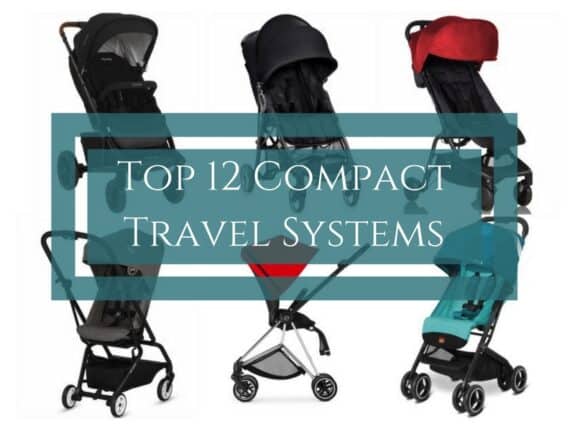 We have compiled a list of our top 12(in no particular order) tried and true compact travel systems.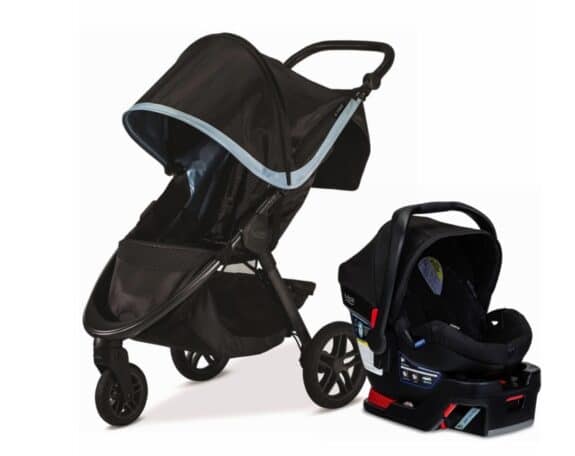 New for 2018, Britax's B-Free stroller is designed from birth to 65 lbs!  The big sister to their popular B-Agile stroller, the B-Free features all-terrain tires, all-wheel suspension, 7 convenient storage pockets and an extra large canopy with an expandable panel.
The B-Free also includes these features:
One-hand fold
Lightweight frame
Travel system compatible
3-wheel configuration with front swivel wheel
Infinite recline seat back
Adjustable handlebar
Foot-operated parking brake
Extra-large under seat storage
Flip-up calf rest to access storage from the front of the stroller
Product specifications
Recommended use: birth to 65lbs
Product: 44″ L x 24″ W x 42″ H
Product (folded): 32″ L x 24″ W x 15″ H
Product weight: 22lbs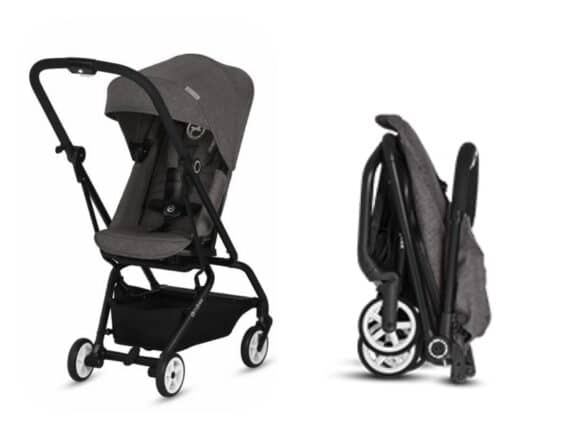 The Cybex Eezy S stroller is a compact easy to fold stroller that is designed from birth to.  It's so compact that it meets hand luggage criteria.  It also has a unique seat reversing system similar to the one orbit used to use that allows babies to face out or face you.
Additional features include:
One-hand folding mechanism
Sleek silhouette and only 45cm width
Smooth 4-Wheel Suspension
Infinite recline feature
Sun canopy (UPF50+) with additional visor protects from sun and wind.
Product specifications
Recommended use: birth to 38lbs
Product (folded): 25 x 45 x 53 cm
Product weight:  11.7lbs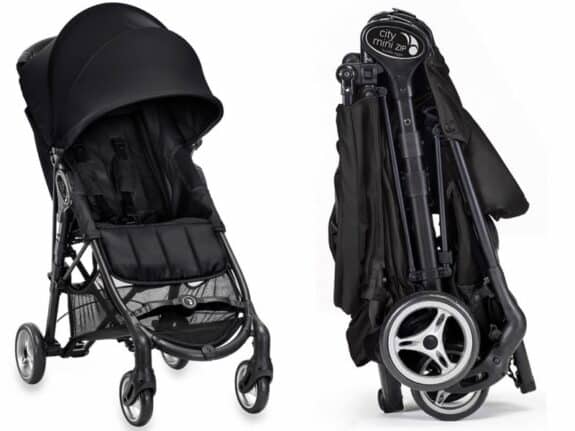 The city mini has long held the crown for the best travel stroller.  Introduced last year the ZIP is lighter, more compact and easy to use.  It is also car seat compatible and perfect for urban and traveling parents.
The ZIP also includes these features:
Adjustable 5-point safety harness with shoulder pads and buckle cover
Multi-position reclining padded seat can be reclined to a near flat position and comes with a vented seat back
Large sun canopy with UPF+35 protection rating shields baby from the sun's rays
Lockable front swivel wheels for agile handling with the front wheel suspension
Rear parking brake
One-hand 3D fold: stroller length and width folds in one swift motion to 1/8 the volume with the use of just one hand
Stroller stands upright on its own when folded
Removable auto-lock to keep stroller closed when folded
Comfortable solid round handlebar allows one-hand steering
Adjustable foot rest for smaller legs
Comes with cupholder
Multiple storage compartments make it easy to tote around necessities
Product specifications
Recommended use: birth to 55lbs
Product: 39.5″ L x 19.5″ W x 39.5″ H
Product (folded): 29.5″ L x 12.5″ W x 9.75″ H
Product weight: 16lbs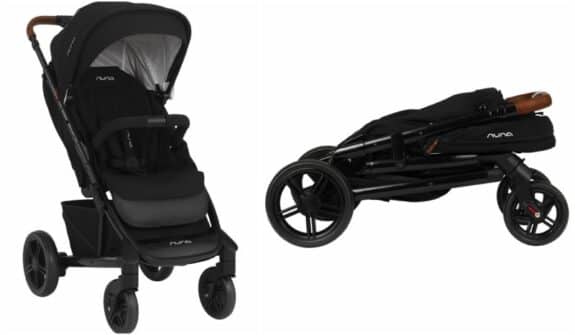 Even though Nuna's pepp stroller is more compact we love the Tavo's features for everyday and travel use. It's generous canopy, roomy seat and large storage make it very popular with our moms.
Some of its other features include:
Connects directly with the Nuna PIPA series car seats with just a click (no adaptors needed!)
Super convenient, quick-click fold lock and trolley function when folded
Opens and closes easily with just one hand
One-hand, four position recline keeps little riders relaxed
Two integrated mesh ventilation panels choices create the sky smart canopy
Removable, oversized canopy with flip out eyeshade is retractable
Adjustable calf support with integrated footrest comforts little snoozers
Five or three-point anti-loop harness, featuring quick click release button
Progressive suspension technology gives a nice, smooth ride
Simple, one-touch, rear wheel braking system
Removable infant insert and arm bar for extra comfort and security
Large storage basket is perfect for stashing swag
Product specifications
Recommended use: birth to 50lbs
Product:

42.5″H x 35.6″L x 22″W

Product (folded):

18.5″H x 36.8″L x 22″W

Product weight: 22.4lbs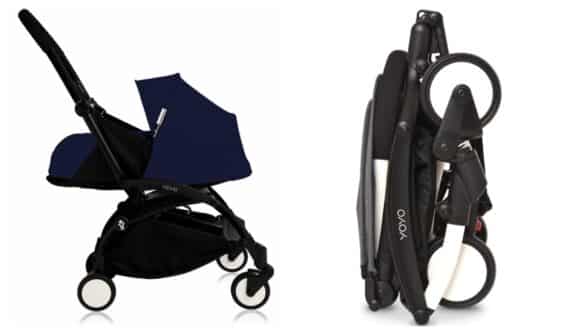 The BabyZen is a popular stroller with parents who want an upscale experience in a compact package. The Yoyo+ 0+ has a fully reclined newborn nest with a 5-point harness, exclusive pop-up canopy with 3 positions, a foot cover, and a newborn head support. It is also car seat compatible with many popular brands.
Additional features include:
Suspension on all four wheels
Extendable canopy with UPF 50+ sun protection
Reinforced frame
Fits in the smallest spaces and in the overhead compartment of an airplane**
One-hand folding, unfolding, and driving
Exclusive "soft-drive" system: no need to lock the front swivel wheel
Easily removable fabrics and entirely washable
BabyZen offers a large number of accessories for parents to completely customize their stroller
Product specifications
Recommended use: birth to 40lbs
Product: 39″ L x 17″ W x 41″ H
Product (folded): 20″ L x 17″ x W x 7″ H
Product weight: 13.6 to 14.3 lbs depending on the version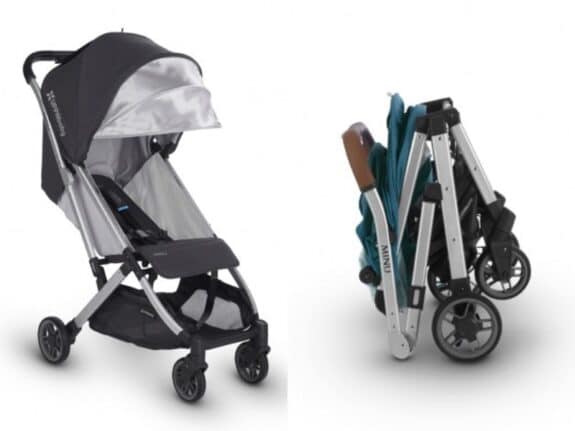 Hitting stores soon, UppaBaby's Minu is designed for your daily adventures.  This modern, compact, lightweight stroller has plenty of room to store essentials and an almost flat recline(babies months 3+) for naptime.
The Minu also includes these features:
One-hand action fold. Designed to fold into a compact package with just one hand
Carry strap for easy transport
All-wheel suspension ensures a smooth ride
Modern silver frame
Leather handle
Generous canopy with flip out panel
Infant and car seat compatible with a From Birth Kit and MESA infant car seat adapters
Product specifications
Recommended use: birth(with car seat) to 50lbs
Product:

28″ L x 20.5″ W x 41″ H

Product (folded):

11.5″ L x 20.5″ W x 23″ H

Product weight: 13.8lbs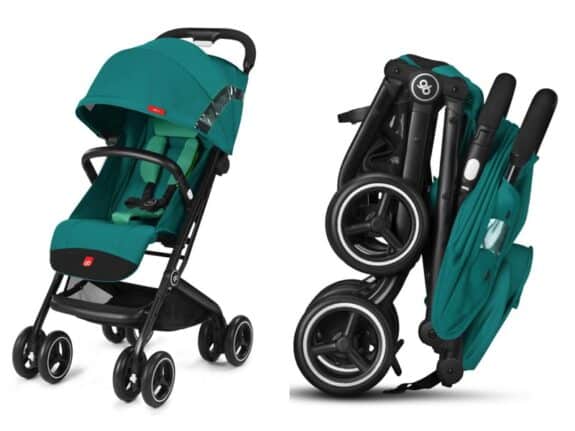 gb's Qbit PLUS Stroller has all the benefits of its little brother the Qbit, with extra features, including a reclining backrest with a true lie-flat position suitable from birth, a head hugger, and bigger wheels all offering comfort and convenience from birth. The super compact folding system can be operated using just one hand, leaving the other hand free for hand-holding or carrying shopping.
Some of the strollers' additional features are:
One handed fold
Canopy window
XXL sun canopy
Cushioned head, shoulder and crotch pads
Shopping basket: To store away your belongings (max. load 11 lbs)
Bigger wheels: Wheel diameter of 6.3 inches with swivel lock function
Adjustable leg rest
Freestanding when folded
Travel system ready with gb or CYBEX infant car seats
Product specifications
Recommended use: birth to 55lbs
Product: 28″ L x 19.3″ W x 41″ H
Product (folded): 16.5″ x 19.3″ x 20.9″
Product weight:16.8 lbs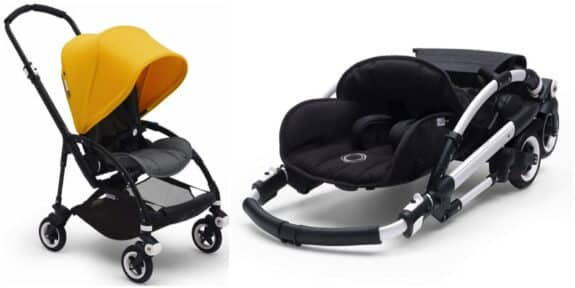 bugaboo's Bee stroller has been a popular luxury travel stroller for more than a decade. Completely customizable, parents can pick different color options for the frame, canopy, seat, handlebar grips and even the wheel caps. It has the coolest seat on the market and comes with a large number of additional features.
Here are some of our favorites:
Large, extendable sun canopy
Reversible seat: Facing you or facing the world
Reclinable seat: Sit up straight when awake, recline when relaxed, or lie flat when fast asleep.
Extendable seat: Pull the seat out to support small legs or when babies are asleep. Push it back in for bigger children.
Height-adjustable backrest: Grows with your child in four steps. The sun canopy and five-point harness simultaneously adapt.
Height-adjustable handlebar with leather-look grips: Enjoy comfortable, one-hand steering, no matter how tall you are.
Light chassis, easy compact fold
Independent four-wheel suspension: Turns smoothly and provides a stable, comfortable ride.
Car seat compatible: use our adapters for car seat compatibility
Comfortable seat, secure harness holds your child snugly in the padded seat.
Product specifications
Recommended use: birth to 37.5lbs
Product (folded): 35.4 L x 18.3 W x 12.6 H
Product weight: 19.3 lbs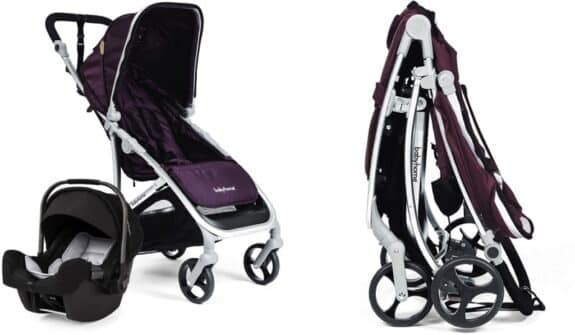 Designed for kids from birth to 55 pounds, the Babyhome Vida weighs just 16lbs and folds easily for storage.
It also comes with these convenient features:
Adjustable handlebar into several height positions and one hand steer
Canopy window to watch your baby
Canopy extra position to provide further shade space
Mesh and airflow side windows
Two different footrest positions: baby and toddler
Large and accessible basket
Car seat compatible (adapters sold separately)
Wheels made of durable material and with shock absorbers
Washable and zipper removable fabric
Specifications:
Usage age/weight: Birth to 55 lbs
Stroller weight: 16 lbs
Open dimensions: 36 L x 19 W x 43 H
Folded dimensions: 12 L x 19 W x 28 H
Bonus:  It now comes in the Vida Golden which has rose gold accents.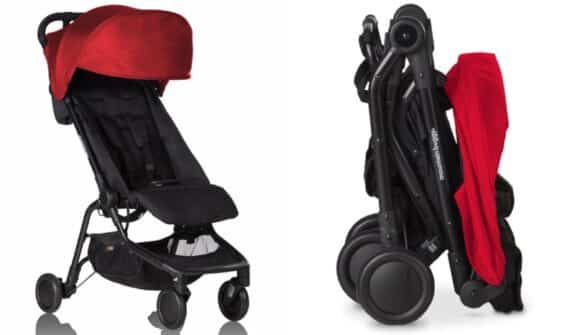 Mountain Buggy's Nano stroller is a lightweight, compact folding travel stroller that provides dual functionality of car seat compatibility to easily transform into a fuss-free urban stroller.  Nano is so compact it can easily fit into many carry on luggage units for planes, trains, and automobiles!
Here are some additional features include:
Easy, one hand flick out unfold
Rear wheel suspension
Shoulder strap for hands-free carry
Exposed carry handle when folded in the satchel
Mesh ventilation with the seat reclined
Easy pedal brake
Travel system ready – built-in safety belts to safely secure a car seat capsule to nano – no need to purchase additional adapters!
Compatible with the Mountain Buggy Newborn Cocoon (sold separately) for a fully flat newborn-friendly solution!
Product specifications
Recommended use: 6 months to 40 lbs
Product(inches): 33 L x 22 W x 39 H
Product (folded): 12 L x 22 x W x 20 H
Product weight: 13lbs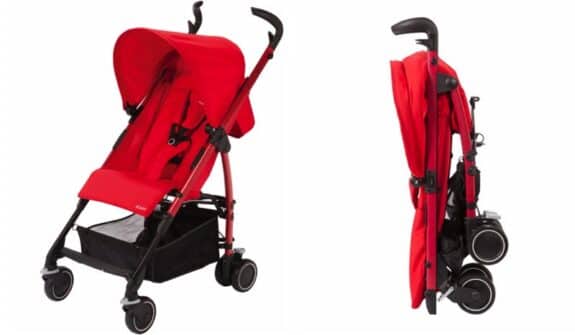 The Kaia stroller is a quick and easy to fold option that stands upright for easy storage and travel. Designed for kids from birth to 50lbs, the Kaia can be used with Maxi Cosi's Mico Max 30 Infant seat as a travel system.
Here are some additional features:
Multi-position reclining seat with a padded 5-point harness for safety
Parent cup holder
Adjustable leg rest
Convenient shopping basket
Canopy shades and protects baby from bright sunlight
Product specifications
Recommended use: birth to 50lbs
Product: 41 inches H x 20.5 inches W x 26 inches D
Product weight: 19lbs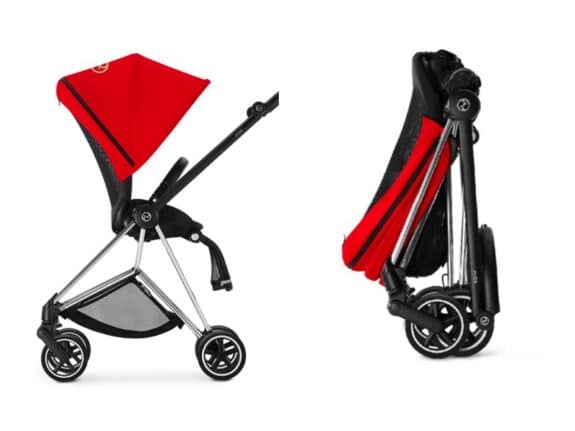 The Cybex Mios is the little sister to the brand's Priam stroller.  One of the most luxurious travel strollers on the market, the Mios has a small footprint and front swivel wheels to navigate the narrowest of paths with ease. It gorgeous aluminum frame gives it an upscale look and it comes in a large variety of fashion collections for parents of all styles.

Some of its additional features are:
Seat can be positioned forward or parent-facing
Memory-buttons provide easy click-on and -off from the seat unit
One-hand folding mechanism transforms your stroller into a self-standing compact package in seconds
Backrest can be reclined to four different comfortable positions
Legrest can be adjusted to three different positions
All-wheel suspension provides a comfortable ride.
UPF50+ and viewing window
Included padded inlay to keep kids warm on cool days, and can be removed to circulate air on warmer days
Product specifications
Recommended use: birth to 45lbs
Product: 37″ L x 15.35″ W x 37.4″ H
Product (folded): 29.5″ L x 19.7″ W x 13″ H
Product weight: 19.2lbs